June 2021
To download a printable version of this insight, click here.
Drawing on its proprietary child care database, Charter monitors and curates key property metrics for child care centres throughout the East Coast of Australia, to provide in-depth insight for customised geographies.
As reported in our previous Insight in November 2020, the child care sector demonstrated its resilience as a 'defensive asset'. Since then, child care properties have continued to transact, with results demonstrating increased investor confidence in the child care property asset class. With the low interest rate environment here to stay, there has been a renewed interest for assets with strong lease covenants and longer WALEs. In particular, the data suggests that the child care asset class has benefited (and continues to benefit) from this environment. Charter has continued to monitor these transactions and has collated sufficient data, particularly in the Victorian market, to provide a mid-year update. In the period of December 2020 to June 2021, there have been 25 child care property transactions in Victoria of which six have been located in Regional Victoria.
PROPERTY TRANSACTIONS AND YIELDS
Since the onset of COVID-19, investors' appetite in child care properties has continued to increase. In particular, since the easing of the restrictions in Victoria, child care's role as an essential service has been firmly cemented with median prices having continued to increase steadily.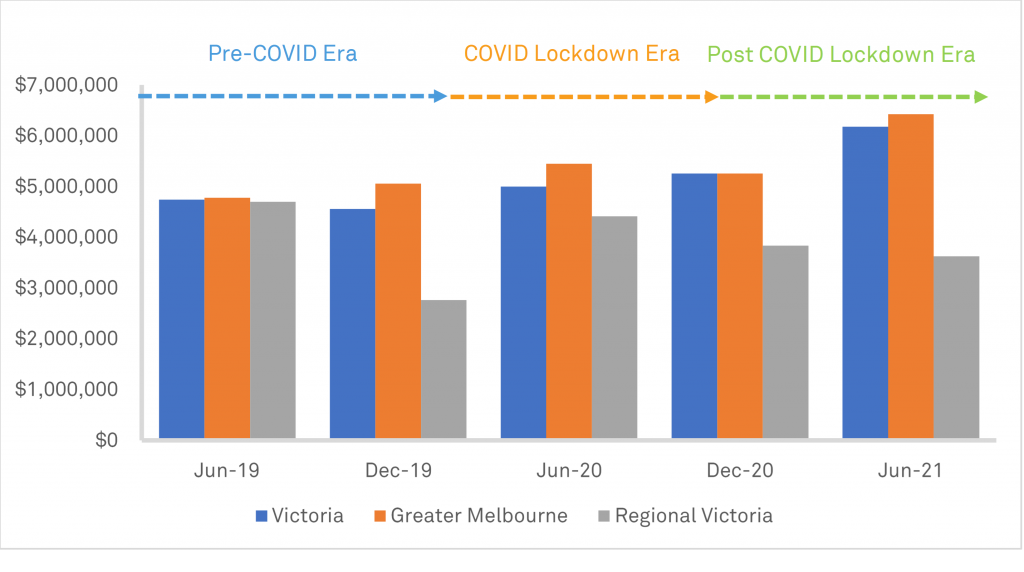 Since the lockdown era began, the Victorian child care property market in general showed positive signs, with median sale prices increasing state wide. However, this increase has predominantly been led by the steady increase in Metropolitan Melbourne whilst the opposite can be seen in Regional Victoria. A closer look into our data highlights that the decreasing median price within the Regional Victoria market is attributable to smaller size centres with lower values transacting but with the passing yields continuing to compress.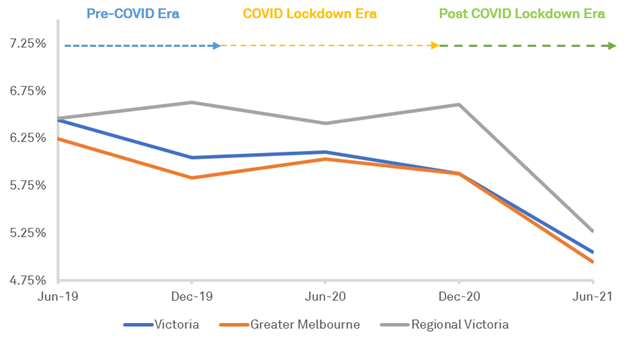 As stated in our previous insights, there has been a long term trend of yield compression within the child care property sector. At the start of the COVID-19 lockdown era, passing yields had signs of holding steady at approximately 6% in Victoria. However, since the easing of restrictions / post COVID-19 lockdown, the data shows the passing yields have continued to compress in Victoria to approximately 5.1%. This is a strong indication of continued investor confidence and a sign that child care property has matured as a strong defensive asset class.
PROPERTY TRANSACTIONS AND YIELDS
A selection of the latest transactions (shown below) demonstrate the appeal of well-located freehold child care properties with strong lease covenants.

Comprising in excess of 4,500 existing and future proposed long day care centres, Charter's East Coast proprietary Child Care Database generates comprehensive and unique insights into the market appetite for long day care services within customised geographical catchments, and provides our Clients with simple and clear outputs.
Charter provides a full range of integrated child care services:
Local market research,
Pre-purchase advice and Valuation,
Quantity Surveying and Project Management,
Tenancy Procurement and Advisory.
The Property Insights have been prepared by Charter Keck Cramer (Charter).  The information provided is not intended to provide a sufficient basis on which to make an investment related decision.  It is intended to provide observations and views of Charter.  Any reliance placed on this material is at your own risk.  If you require specific advice or information, please contact one of the leaders at Charter Commercial Valuations or Charter Research.