9 May 2023
As the housing markets across the capital cities of Australia continue to evolve and mature, it is important to understand that the types and locations of dwellings that have been built in the past are not necessarily the same as the types and locations of dwellings that need to be built into the future.
This is the first in a series of insights where Charter Keck Cramer will explore the demand for various types of dwellings, and various locations, across the capital cities of Australia.
Baby Boomers were born between 1946 and 1964. They entered the housing market when the Great Australian Dream was largely for a detached house and land on a quarter acre block of land. Many of these detached dwellings were delivered (or bought) in what were at the time the inner, middle and outer rings of the various capital cities. Since then, many of the capital cities have expanded their respective urban footprints to accommodate the rapidly growing population(s) and these areas now for the most part form the "middle" rings* of the capital cities in Australia.
Baby Boomers are starting to enter retirement in large numbers. The statistics show that many Baby Boomers have paid off their detached house and their children have moved out of the family home. These Baby Boomers are familiar with the current area in which they live and are ideally looking to remain in the same area and age in place. Many are asset rich (their detached house is often their largest asset) but cash flow poor given they have stopped working full time.
Over the next decade many of these Baby Boomer households are going to have to make a lifestyle decision relating to their current housing arrangements. These housing decisions will also need to be made in the context of their financial circumstances and how they will continue to live in retirement.
It is anticipated that many of these Baby Boomers will be seeking alternative forms of dwellings to meet their housing needs more appropriately for the next stages of their lives. The types and locations of the dwellings, as well as the price points, will play a key role in their purchasing decisions given they desire to (and / or will need to) (1) remain in the same location, (2) access / crystallise some of the equity in their existing detached house to fund their retirement and (3) move into a dwelling that responds to their changing lifestyle needs.
The maps below start to illustrate the depth of these markets across the capital cities of Australia. Specifically, they show the number of households aged over 55 years old that own their detached house outright.
It is immediately apparent that there are many deep markets in the middle rings of the capital cities in Australia. A deeper analysis of these middle rings indicates that these locations typically have the best forms of existing infrastructure, retail and amenity. They also often have some of the most restrictive planning schemes (which prevent increased density of development) as well as some of the highest house prices in each respective capital city.
Some of the opportunities, which have already started to be expressed and which will continue to accelerate as Baby Boomers retire, are summarised below:
Build to Sell (BTS) owner-occupier apartments. Well built, owner-occupier apartments in small to medium schemes are attractive to Baby Boomers as they provide a low maintenance, lock up and leave lifestyle. They also provide security for older residents often without stairs. The most popular product type appears to be the 2BR/2Bth, 3BR and 4BR which allows these households to have space for family, as well as have guests and grandchildren over.
Townhouses. Well-designed townhouses with private open space are also attractive to Baby Boomers. The feedback is that buyers like to have small private gardens for pets or vegetable gardens. In certain locations across Australia, where land prices are high enough, they can be delivered with lifts. Alternatively, there is an opportunity and a gap in the market to deliver single level townhouses (without stairs) to the Baby Boomer segment of the market.
Build to Rent (BTR) apartments. As the value proposition of BTR is understood, it is anticipated that a segment of the Baby Boomer market will move into BTR. Key segments could potentially be widowers, divorcees or people who don't wish to move into retirement and are seeking to reside in a safe community with high levels of resident amenity.
Retirement living. Retirement living is also likely to continue to be attractive to a segment of the Baby Boomer market given the dwellings and service offerings of a retirement / lifestyle community, which are tailored to the lifestyles of many people entering retirement age.
Opportunities for Government
At present, and unfortunately in the absence of suitable and affordable alternative accommodation in the same location, many Baby Boomers in the middle rings of the capital cities of Australia will remain in their current detached dwellings (age in place). This is a direct result of restrictive planning schemes which are driving up house prices by limiting the delivery of additional, diverse and more affordable housing and ultimately impacting the liveability of various neighbourhoods and our capital cities.
This is an unsatisfactory outcome for many Baby Boomers and also prevents other households and age groups from entering into (or remaining in) these highly sought after housing markets.
Government is encouraged to take a proactive, brave and longer-term approach to address this issue. Changes to planning schemes to allow greater forms of housing density (i.e. townhouses, BTS apartments and BTR apartments) are essential. Changes to various taxes and charges (such as the removal of stamp duty / land transfer duty which is an incredibly inefficient tax) are also necessary to facilitate the cost-effective transition of Baby Boomers into different types of dwellings.
Government must realise that decisions made today will impact the housing markets of tomorrow. Having studied several housing markets, in fact Charter Keck Cramer observes that decisions relating to planning and planning schemes take one or more housing market cycles (7-10 years) to flow through at scale, whereas changes relating to tax settings that facilitate the production of new dwelling take anywhere from 2-4 years to flow through at scale.
Finally, there is also an education piece for the public that needs to occur in terms of medium and higher density dwellings and the fact that not all density is bad. Government facilitating additional and diverse forms of dwellings in the middle rings of the capital cities will for example allow Baby Boomers to age in place in more appropriate dwellings, and it will also allow them to live close to their children and grandchildren who will be able to purchase or rent more affordable dwellings such as apartments or townhouses in the same location.
Opportunities for developers and financiers
Developers and financers are encouraged to explore the maps to see the significant amount of latent demand in some of these locations. This demand is waiting to be captured should the right product at the right prices be delivered.
The development and finance industries are also encouraged to continue to seek out innovative housing solutions and finance models that meets the demands and responds to the lifestyle and financial needs of the Baby Boomer market segment.
*Middle Rings for each capital city are defined broadly, from the GPO's, as follows: Sydney (10-30km), Melbourne (10-20km), Brisbane (2-10km), Perth (2-10km), Adelaide (2-5km) and Canberra (2-5km).
CLICK HERE for an interactive view of each Australian capital city.
Melbourne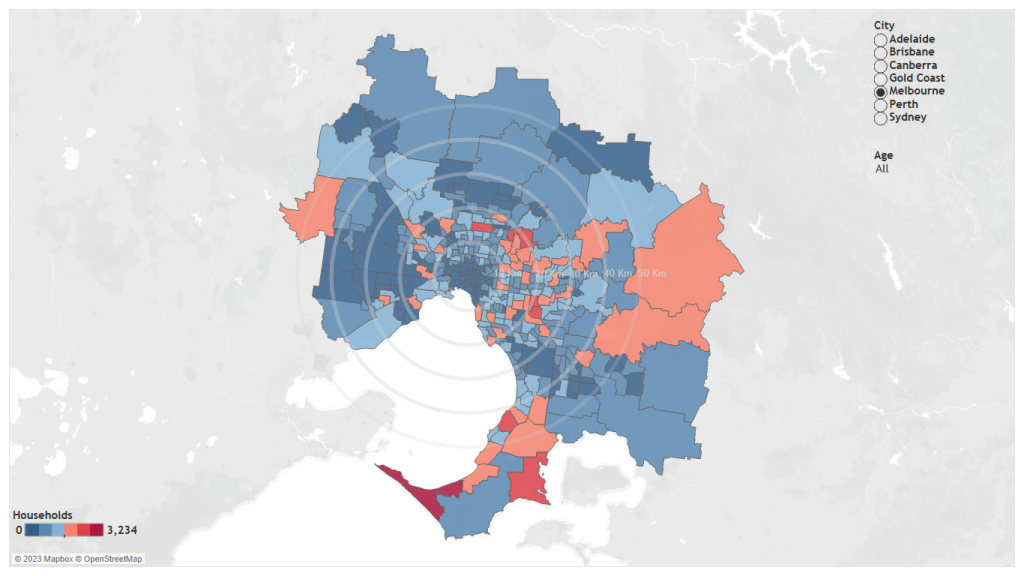 Sydney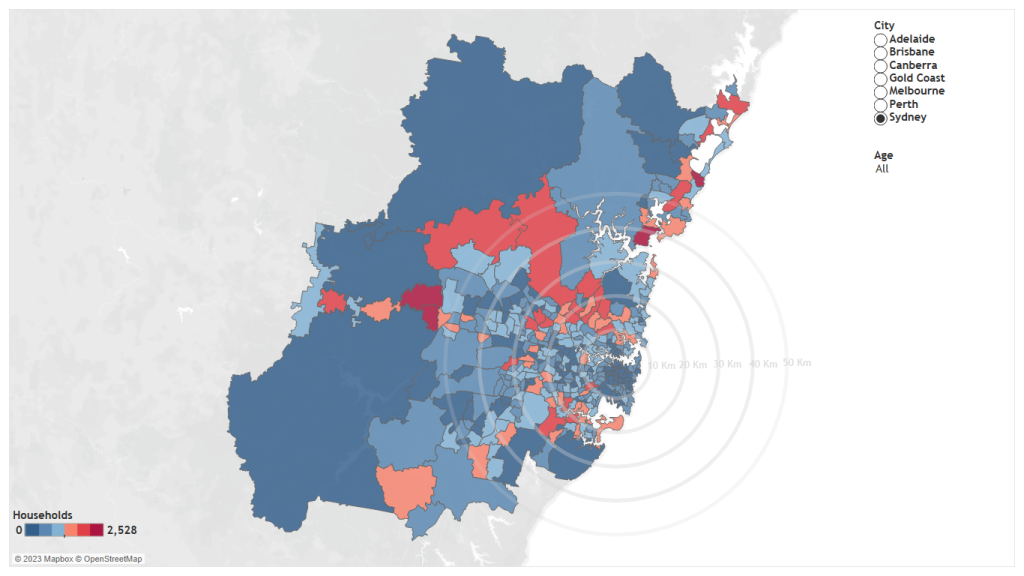 Brisbane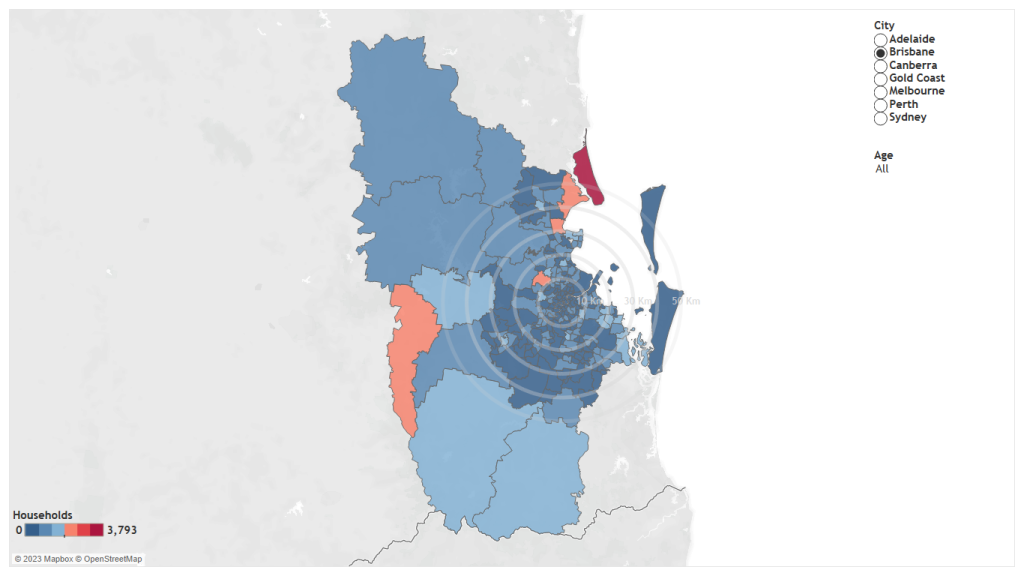 Gold Coast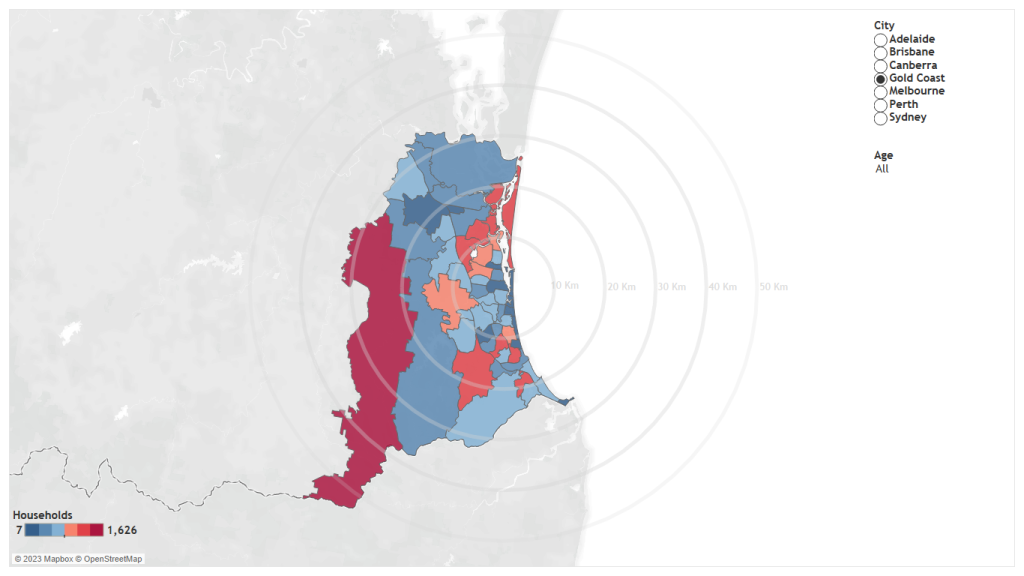 Perth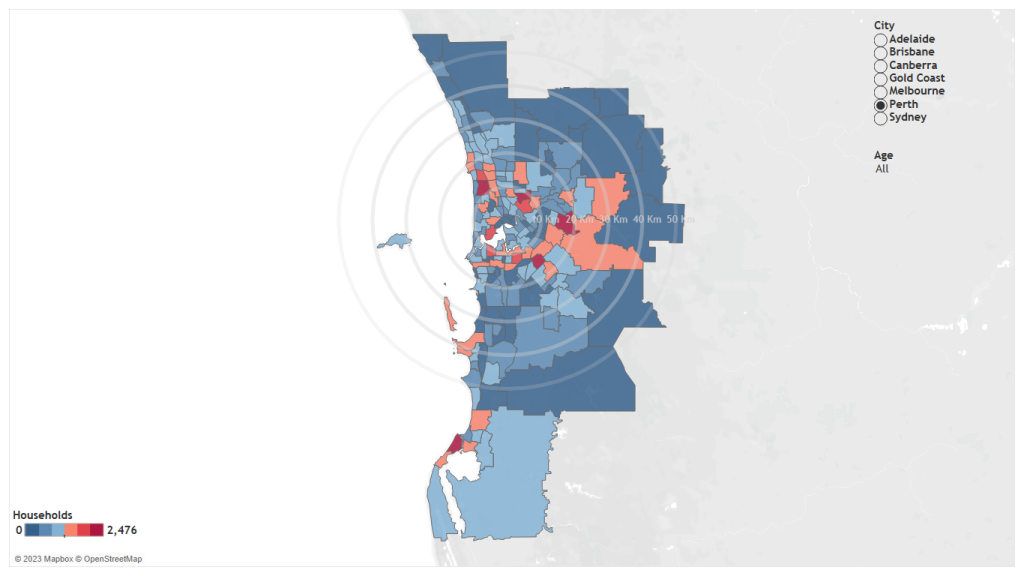 Canberra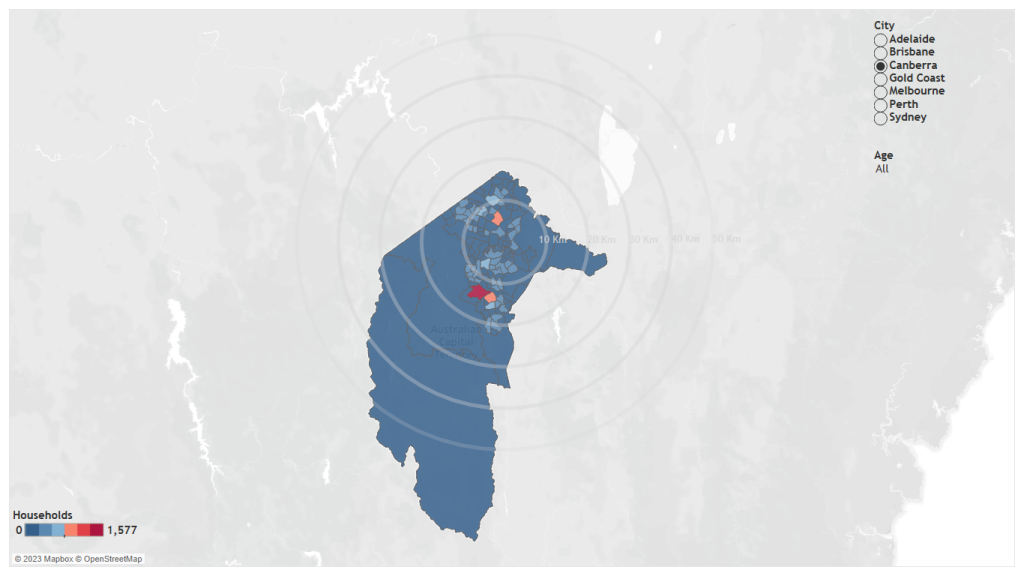 Adelaide