The Economy 
Global economic growth remains subdued, with some volatility on the downside as uncertainty and general negative sentiment remains, primarily around geopolitical tensions. Such uncertainty has the potential for global markets to slide into recessionary thinking. Australia's growth position is not too dissimilar to G7 countries having slowed itself, however it appears to be gaining some momentum on a stronger export scenario given the lower level of the Australian dollar. We are also benefiting from the likes of China, our major trading partner, which in response to its slowdown, is implementing stimulus measures and thereby increasing appetite for our resources.
Much of Australia's drag on economic performance has been due primarily to domestic issues, with drought conditions stagnating the agricultural sector and a cyclical end to pricing in housing markets, particularly in NSW and Victoria. Despite continued low levels of unemployment, wages growth still eludes for the most part, and any inflationary stimulus has therefore been difficult to achieve. A lack of inflation coupled with the cyclical economic slowdown is providing further downward pressure on official cash rates that are already at historically low levels. Consumers are cautious about the economy, reflected in deflated results across several consumer confidence indexes. Although there are signs that a rebound in the pricing of the residential housing market is likely, it may take some time before we see the benefits flow through to Australia's economy given confidence levels.
Victoria's economic conditions continue to be amongst the strongest in the Country, with key cyclical drivers supporting the diversified and largely non-mining economic base. Robust population growth, driven by overseas and interstate migration continues to support Victorian economic growth, helping explain job growth and the absorption of strong office development completions. It has also provided for substantial public investment in transport and social infrastructure as the Government looks to alleviate the pressures around such strong population growth. Continued population expansion should also provide fundamental demand for housing in the long run. Commercial construction is anticipated to continue its robust fortunes of recent years, with a strong pipeline of both publicly funded building approvals around health and education in addition to a private sector providing mixed use developments around buoyant accommodation and office sectors.
Office
Figure 1:  Central Melbourne Office Supply (sqm), Demand (sqm) & Vacancy (%)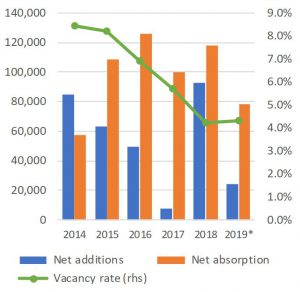 SOURCE – Charter Keck Cramer & Property Council of Aust Central Melbourne includes CBD, Docklands & Southbank
*first six months of the year only
Melbourne's office market is in a strong position. The office sector in Central Melbourne, supported by net face rental growth and some relief in the levels of rental incentives, is now successfully competing for sites previously intended for residential apartment proposals, particularly as the apartment market comes off its peak. Strong underlying fundamentals in Melbourne on the back of the State's strong population growth and the resultant expansionary jobs market for industry sectors requiring office accommodation, have been reflected in substantial levels of positive net absorption recorded across the geographic markets.
This is particularly the case around education and professional services supporting record level public infrastructure investment.
Despite a period of strong supply coming onto the market, a combination of elevated absorption rates of existing stock and high levels of tenant precommitment of the new stock being completed, has resulted in historically low vacancy rates in Central Melbourne in particular, but also in the established fringe and suburban markets. Recent policy changes targeting development controls in the CBD grid and Southbank, although well intentioned, are forcing some office development proposals beyond these boundaries and into new fringe markets that have the required sites.
Evolving tenant requirements continue to impact positively on the office sector, with demand for co-working and collaborative environments over shared accommodation now an established trend, with both domestic and foreign providers expanding rapidly across the Melbourne CBD and fringe markets.
The investment market is strong, including in the non-CBD markets, with quality investment grade stock sought after by both domestic and foreign investors. With a low-interest rate and low return environment expected to continue in the medium term, the investment market is likely to be limited only by the availability of stock, as a substantial weight of capital competes for a limited number of core assets.
RETAIL
Figure 2:  Victorian Retail Trade by Sub-Category, Year on Year Percentage Change for September Month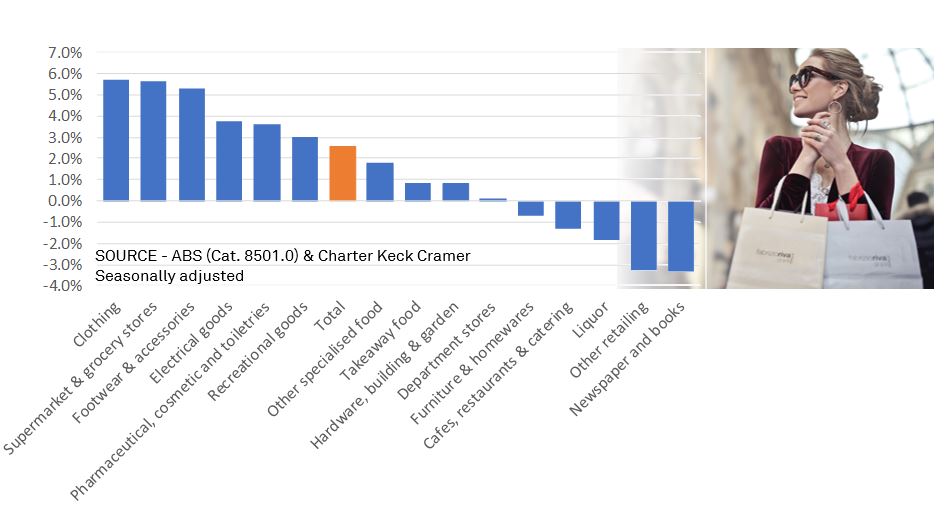 National retail trade results suggest that the retailing environment remains weak. Recent interest rate cuts and income tax breaks mid-year appear to have provided the opportunity for consumers to repair household balance sheets as opposed to spending the increase in their disposable income. Importantly however, retail trade remains positive.
Concerns about the strength of the national economy, in conjunction with insipid wage growth and weaker housing market conditions in both Sydney and Melbourne, have provided for an environment which is generally not conducive to an increase in volumes of discretionary retail spend. Figure 2 highlights the focus in Victoria in key non-discretionary sub-categories ahead of others.
Cuts to the official cash rate by the Reserve Bank are being interpreted by cautious consumers that the domestic economy requires support in the short term to deal with the increasing headwinds and the retail market remains challenged as a result.
Victoria's economic conditions comparatively remain robust, leading the nation in population and employment growth as well as retail trade growth. Although consumers may not necessarily be spending more as individuals, there are more consumers to spend as the population increases.
Despite the stronger retail trade growth in Victoria, competitive pressures in the retail property market remain, particularly on discount department stores and apparel traders following the arrival of international tenants in Australia.  Leasing demand, especially from fashion tenants, has suffered from several retailers entering administration over the last couple of years.
For owners and managers there is a shift towards more experiential retailing, focusing on food & beverage, dining and entertainment facilities. This trend has been reflected in many of the redevelopments having taken place in the larger shopping centres in Melbourne. The leasing market generally, however, remains a significant challenge.
Retail property remains a tightly held asset class, with premiums continually paid for ownership opportunities. Smaller centres and supermarket based centres as well as large format retail centres (leased to prime tenants) are generally attracting the strongest investment interest domestically and from offshore.  Retail strips have generally had less investor interest due to higher vacancy rates and limited rental growth, however interest does remain for retail assets with development upside.
INDUSTRIAL
Melbourne's industrial market has a diversity of occupants, reflective of the broad Victorian economic base, and remains the largest of all Australia's capital cities in terms of land stock and built floorspace.  Melbourne's industrial market is central to Australia's manufacturing industry which, although diminishing in significance to the national economy, is still a large driver of industrial markets particularly as it evolves from traditional industries such as automotive, clothing and footwear, and into the more niche markets of food and beverage manufacturing. Melbourne also plays a primary role as the distribution centre for the country with the Port of Melbourne being the largest container port in Australia. The sector is supported by high quality transport infrastructure, particularly for road freight.
The industrial property market continues to evolve and mature through increased integration with e-commerce and warehousing and logistics.  Low cost transport helps manufacturers remain competitive despite the ongoing contraction of the Victorian manufacturing industry as a percentage of the State's total economy however, Melbourne remains the Country's manufacturing capital.
The emphasis in providing efficiencies through new industrial logistics hubs and facilities, in support of the perceived growth expected in logistics via the e-commerce industry, has seen increased demand in industrially zoned land in recent times. Such demand has been reflected in land prices and is expected to flow through to rents. Significant land banking of industrially zoned parcels has become quite prevalent across Melbourne.
As with other asset classes, Prime grade assets across industrial markets are also experiencing offshore investor demand as international institutions chase a scarce number of investment-grade assets across global property markets. The scarcity of industrial investment-grade assets with long lease expiries is a likely limiting factor for continued high levels of investment and sales volumes. Demand however is expected to remain high over the short term.
The depreciation of the Australian Dollar coupled with historical low interest rates is expected to prolong the high levels of purchaser demand from both local and offshore investors as well as owner occupiers.