In the time it has taken for Melbourne's new metropolitan strategy (Plan Melbourne) to be released as a draft in October 2013, the planning policy framework affecting new housing supply across the city has shifted considerably.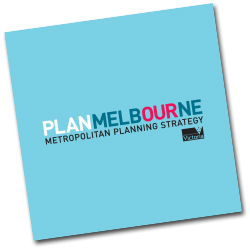 Whilst Plan Melbourne has attracted the headlines, a number of lower-profile but more significant statutory planning policy changes are already taking place:
New Residential Zones (introduced July 2013);
New Development Contributions (pending); and
Increasing Public Open Space Contributions (pending).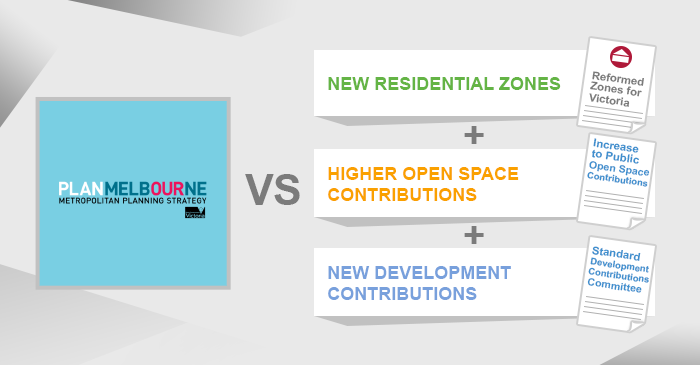 The three statutory changes will result in more immediate and real impact on property development that will shape the future structure of the city. Each of these policies appears to have been designed in isolation – of each other and of Plan Melbourne – notwithstanding the magnitude of their cumulative impact on future housing supply. The new residential zones will cause, by far, the greatest future impact.
The Unforeseen Planning Strategy – Vision vs Implementation
Plan Melbourne establishes an aspirational vision, yet the key success measure for any metropolitan strategy is always its ability to be implemented. Whilst Government sets an "implementation plan", the private development industry becomes ultimately responsible for the delivery of built form outcomes.
The three statutory changes, in isolation of Plan Melbourne, will have profound effects upon the ability of the development industry's ability to deliver cost-effective new supply that that will directly translate into detrimental impacts on future residents' (both as owner occupiers and renters) ability to access housing in high-amenity areas at affordable prices (or rents).
These impacts include:
Reduced new housing supply, particularly in Melbourne's higher priced and infrastructure-rich housing markets;
Higher development costs for new residential projects;
Higher prices for established housing given increased scarcity; and
Reduced housing diversity and choice for future consumers.
Importantly, existing residents are unlikely to be significantly burdened by these impacts in the first instance. Rather, existing inter-generational housing disadvantages will become further entrenched by increasing the already high barriers to entry (ie. price) to housing markets.
Impacts of New Residential Zones
The new residential zones (Neighbourhood Residential, General Residential and Residential Growth) are being implemented at the discretion of Councils ahead of the finalisation of Plan Melbourne although the draft Strategy seeks to deliver "the Neighbourhood Residential Zone (NRZ) across at least 50 per cent of Melbourne's residentially-zoned land".
The NRZ is the most restrictive residential zone as it limits development to a maximum of two dwellings per lot along with other stricter design constraints. In the first adopted amendment, Glen Eira was able to apply the NRZ to 78% of its residential land. Charter's research indicates that a range of Councils are currently contemplating the application of the NRZ to between 60% and 80% of their current residential areas.
It is salient that Boroondara (80%), Yarra (77%), Brimbank (63% ) and Whitehorse (79%) are all suggesting application of the NRZ to much higher levels than the nominal 50% benchmark.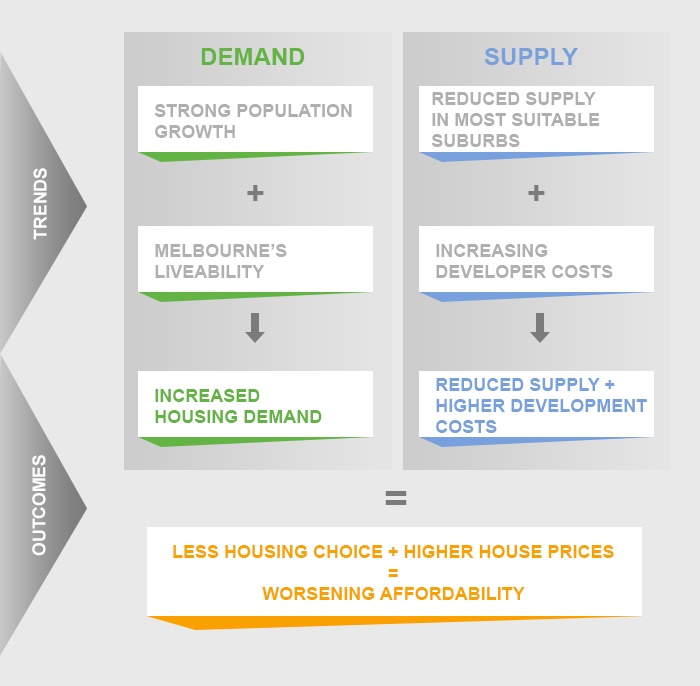 The opportunity still remains for the Planning Minister to properly assess the strategic justification of Councils' proposed zone allocations. Each Local Government Area's role in the metropolitan context must be considered rather than just Councillors' political expediency before new zones become implemented given their long-term impacts to Melbourne as a whole.
Plan Melbourne and New Residential Zones
Plan Melbourne's vision is for 200,000 new dwellings within the Expanded Central City to cater for future demand. This will effectively translate into new supply of apartments. This form of housing supply will continue to overwhelmingly be purchased by investors rather than owner-occupiers until the long term.
As recently discussed by Charter (October 2013 Insight), Central Melbourne's housing market is becoming dominated by apartments purchased primarily as "financial commodities" by investors (both domestic and overseas). Apartments are increasingly being traded as financial products driven by external factors beyond local housing market and demographic fundamentals. This dislocation between meeting local housing needs and generating commensurate investment returns is most pronounced for some segments of non-local purchasers.
Plan Melbourne also proposes an additional 393,000 dwellings to be delivered into established suburbs, which include some of Melbourne's higher-priced and infrastructure-rich locations (Boroondara, Stonnington, Bayside, Port Phillip and Glen Eira) which are, as a result, the most fundamentally supportable and suitable apartment locations based on Charter's rating tool. Most of the highest rating locations are also where the NRZ is proposed to be most aggressively applied.
Inevitably there must be a trade-off between the protection of existing areas and accommodation of housing supply for future residents in locations that are close to jobs and transport.
Unintended consequences of the new residential zones will include a severe limitation of housing choices and higher house prices for future generations but also limitations upon the ability of existing residents to downsize within their local areas and to free-up large sites (often with obsolete houses) to be redeveloped as less expensive new medium density housing for aspiring entrants.
The balance between the needs of current and future communities appears to be unfairly skewed.
Standard Developer Contributions – potential new levies on development
A standard levy on development across Melbourne is currently being considered. Whilst there has been no definitive policy announcement it is likely that a significant charge on all development (including non-residential) will add to the cost to deliver housing in Melbourne's established suburbs, which will affect the volume and price of new housing, and impact housing affordability.
Public Open Space – increased existing levies on developers
Historically, new development faced a 5% contribution to Public Open Space (POS) to the relevant local council. Increasingly, the 5% rate is being reviewed with a number of Councils recently proposing POS contributions in the order of 7-8%. Various amendments and guidelines are proposing an 8% contribution for all non-exempt subdivisions.
How do these policy changes affect metropolitan Melbourne?
Introduction of new residential zones, higher open space contributions and new development charges will lead to a structural shift in the cost and volume of future housing, erosion of project feasibility and reduced supply across Melbourne into the medium and long term. Careful consideration should also be given to how these three policies will impact on home ownership rates for future generations.
The broader housing objectives contained in Plan Melbourne are unlikely to be achieved with policy changes leading to:
Reduced housing choice, especially in Melbourne's most liveable suburbs;
Reduced opportunity for small scale development (2+ dwellings per lot), that provide critical entry level housing opportunities across Melbourne's established areas.
Increased reliance on central city apartments (targeted to investors) to meet Melbourne's future housing needs given limitations to meaningful supply in established suburbs;
Increasing development costs which will either be passed to end consumers as higher prices or lead to a reduction in effective supply;
Critically, the changes to the supply-side of the housing market will be occurring at the same time as population growth is anticipated to remain very strong and drive demand for housing. The latest ABS projections (November 2013) for Melbourne indicate 1.2 million more people by 2050 than the level that Plan Melbourne is now premised upon.
As Charter has previously highlighted, policy must be fully informed about the nature and dynamics affecting urban renewal opportunities and the development industry's capacity to deliver new supply at affordable prices that also reflect appropriate risk-adjusted profit. Planning policy should seek to minimise constraints to housing supply particularly in locations that offer high amenity and transport connectivity so that community benefits associated with urban renewal can be optimised.
1 Brimbank City Council Housing Strategy (October 2013) proposes NRZ to 63% of residential lots.
Find out more about our Research capability and consulting services