September Quarter 2016
Summary of Key Findings
The latest September 2016 quarter results from the National Land Survey Program (NLSP) highlights that Melbourne's greenfield land market continues to outperform.  Annual sales of 21,700 lots (to Q3-2016) is still commanding 40% of national lot sales activity, whilst Melbourne's median lot price remains at an 18% discount to the national median.
The outlook for the Melbourne greenfield market is for lot sales to being moderating from peak levels as prices move up in response to the industry's constrained capacity.  Historic low interest rates and solid population growth will however continue to support high levels of purchaser demand.
SALES VOLUMES
Lot sales during the September 2016 quarter across 137 active trading estates equated to 1,800 per calendar month.  This current activity has cooled -5% from the same period in 2015 and -10% from peak activity in the previous quarter.
The ongoing high volume of lot sales will sustain the new housing construction industry and related economic activity through 2017 and 2018 as lots are delivered and houses are built.
The Western Region accounted for 39% of metropolitan sales which was its lowest share for the past year but was still somewhat higher than the Northern Region (33%) and Southern Region (28%).
PRICES
The median lot price across Melbourne for the September 2016 quarter was $228,000.  The quarterly price growth of 2.8% is the fastest pace since 2010.  The strength of demand, driven by both record low interest rates and a solid established housing market, has supported annual price growth of  8%.
The range of median prices across Melbourne's corridors  is between $154,000 and $329,000 with above-average annual price growth being observed across this whole price spectrum.
Melbourne's average lot prices are by far the most affordable of the East Coast cities given they are 51% less than observed in metro Sydney and 14% less than South-East Queensland.
STOCK OVERHANG
Notwithstanding that Melbourne projects released over 5,000 lots for sale over the September 2016 quarter, the strong weight of demand implied that unsold stock overhang fell -11% over the quarter.
This level of overhang represents 1.4 months of stock availability relative to prevailing demand.  It is the 6th consecutive period of stock availability being below 2.0 months which was last observed in the 2009 ‑ 2010 peak.
METROPOLITAN MELBOURNE: GREENFIELD ANNUAL LOT SALES AND MEDIAN LOT PRICE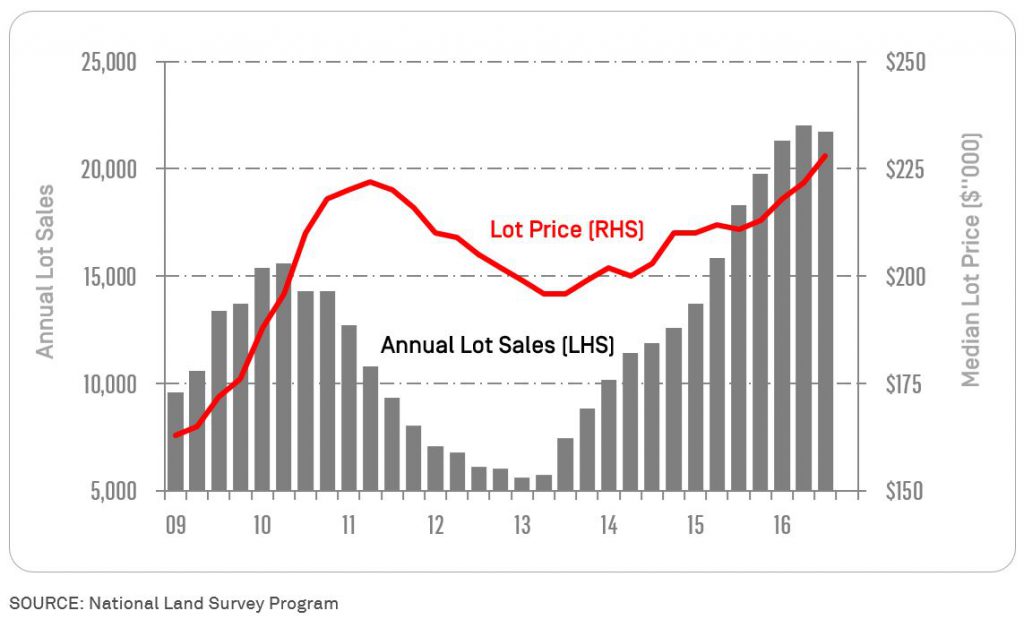 METROPOLITAN MELBOURNE: ANNUAL LOT RELEASES AND STOCK AVAILABILITY
CLICK HERE to download a printable version.