July 2016
Summary of Key Findings
Australia's apartment markets are currently being buffeted by a range of short-term and cyclical headwinds clashing against the long-term and prevailing tailwinds.  The resultant uncertainty at such a time is inevitable and has been observed many times before.
Whilst it is indisputable that Melbourne is experiencing an unprecedented surge of new apartment supply, this is relative to historic norms in a rapidly maturing market. Going forward, policy expectations require 16,000 apartments per annum to meet future housing needs.
The impending supply of new apartments does not, of itself, equate to oversupply especially given that supply forecasts are reducing and that the dynamic rental market will resolve any interim and short–term imbalances.  The potential for price falls, oversupply and settlement defaults in the apartment market are too-often simplified without an evidence-base, nor robust analysis, to justify the potential downside scenario.
Better designed apartments are already being bought to market in 2016 by a more diverse and better-informed industry, including by offshore developers, who are increasingly adopting learnings from mature markets where apartments are now part of an international asset class.
Melbourne's new apartment market is dynamic and will continue to evolve in anticipation of the purchaser (and occupier) requirements but also in response to fast-changing regulations and policies by Government and financiers alike..
Some interesting facts and figures relating to the Melbourne apartment market:
There were another 120 new projects Released in H1-2016, incorporating 12,600 new apartments.  This activity is on pace to repeat the annual peaks in 2014 and 2015.
There were 26 projects released in the Middle Region of Melbourne during H1-2016, which accounted for 20% of all apartments released across the city as compared to 10% of the city's releases in 2010.  In this region, there were 7 projects of more than 100 apartments as compared to only 3 projects of more 100 apartments in 2010.
There are 18,860 apartments expected to be completed in 2016 with a further 20,730 apartments now forecast in 2017 although 7,100 apartments (across 167 projects) have not yet commenced construction.
There were 150 projects completed across 64 suburbs in H1-2016 at an average of 62 apartments per project.  The highest number of completed projects were in North Melbourne, Collingwood, Brunswick East and Bentleigh, Brighton and Malvern East with new projects also observed in diverse suburbs such as Bayswater, Ringwood East, Altona and Caroline Springs.
Melbourne has clearly been the primary destination for offshore developers.  The number of apartments being delivered by Chinese developers is almost evenly split between Melbourne and Sydney.  In contrast, developers from Singapore and Malaysia are more prominently represented in Melbourne.
METROPOLITAN MELBOURNE: HISTORIC AND FORECAST APARTMENT COMPLETIONS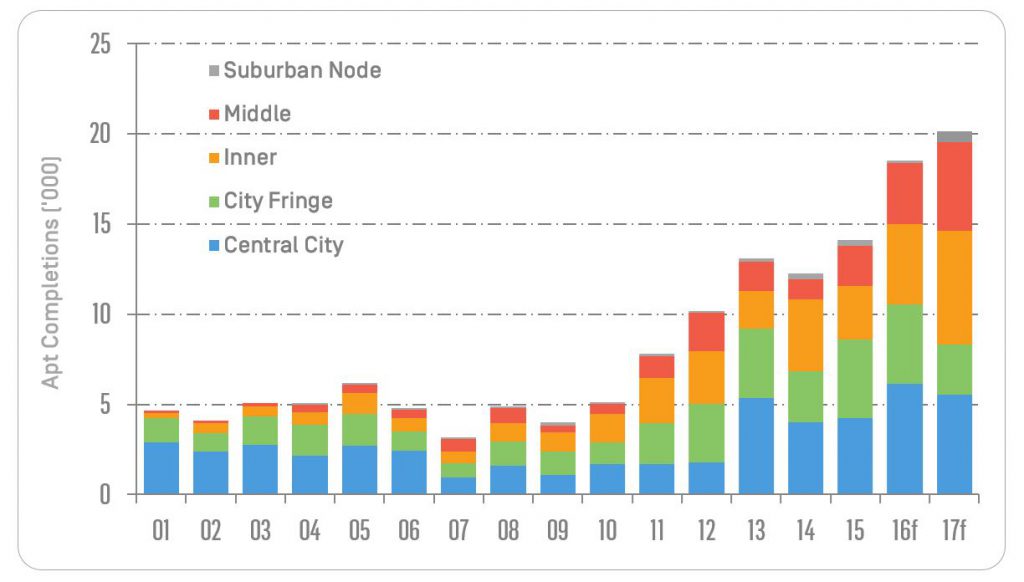 Source: Charter Keck Cramer
METROPOLITAN MELBOURNE: ACTIVE FUTURE SUPPLY
Source: Charter Keck Cramer
CLICK HERE for a printable snapshot.