Summary of Key Findings
Over recent years, many economists and analysts earmarked 2016 as the year when the Melbourne apartment market would face "oversupply".  In fact, some commentators have been suggesting that oversupply is already happening.  Evidence of this event, however, remains scant.
Throughout 2016 there were a range of house price cooling measures introduced by Government regulators (and some enforced through the banking system) aimed at slowing demand from local and international investors.  These policy changes have already had a immaterial impact on the supply-side of the market, with the resulting restrictions on finance availability to developers causing future apartment supply to begin moderating.
Charter Research considers that the blunt nature of the recent measures have had a significant and over-reaching effect on Melbourne's new apartment market.  Many commentators believe that these impacts are justified upon the false belief of an impending systematic "oversupply" in Melbourne's apartment market.
Too often these premature conclusions of oversupply are simplistically justified with reference to inappropriate data points without an understanding of significant structural changes that are occurring in housing markets.
Furthermore, there is a failure to acknowledge the already-existing and robust self-regulating mechanisms and the self-correcting nature of the development and finance industries.  These together moderate the risks of a perpetual oversupply.
Simply put, whilst some projects are ambitious, not all marketed apartment projects proceed. Without sufficient purchaser acceptance, projects will not qualify for construction funding from increasingly-disciplined and prudent lenders.
The evidence
Charter Research has long-believed that there is significant misinformation and misunderstanding about the true status and nature of the Melbourne apartment market.  "Units" in building approvals statistics do not simply equate to new apartment supply and unprecedented levels of approvals does not simply equate to "oversupply".
The Melbourne apartment market in 2016 experienced the full impact of self-regulation with apartment commencements falling from a peak of 24,500 apartments in 2015 to 16,300 in 2016.  This 33% reduction is significant and evidence of the development industry also responding to signals of slowing demand.
Charter's latest research confirms that Melbourne has already seen its peak level of supply in 2016 without any corresponding market-wide falls in prices or rents.  Future completions will now decline and accordingly the regulatory changes and reduced financial liquidity have had their desired effect. This, however, is at the expense of the industry's ability to meet broader housing policy objectives of delivering
Structural market and Industry Changes
The nature of the development industry is now experiencing a further evolution of international developer participation.  The historic strong involvement of Singaporean and Malaysian developers is now being supplemented by the growing involvement of Chinese-originated developers, Apartment completions by Chinese developers first emerged in Melbourne in 2012 and is progressively increasing to account for 18% of projected metropolitan completions across Melbourne.in the near term
METROPOLITAN MELBOURNE ANNUAL APARTMENT COMMENCEMENTS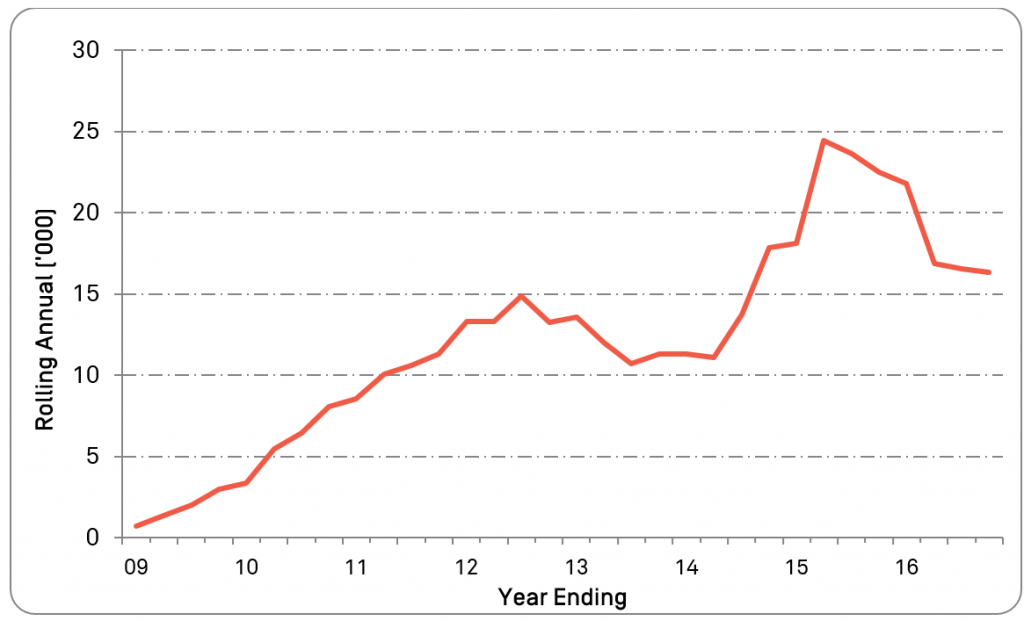 SOURCE: Charter Keck Cramer
METROPOLITAN MELBOURNE APARTMENT COMPLETIONS BY DEVELOPER ORIGIN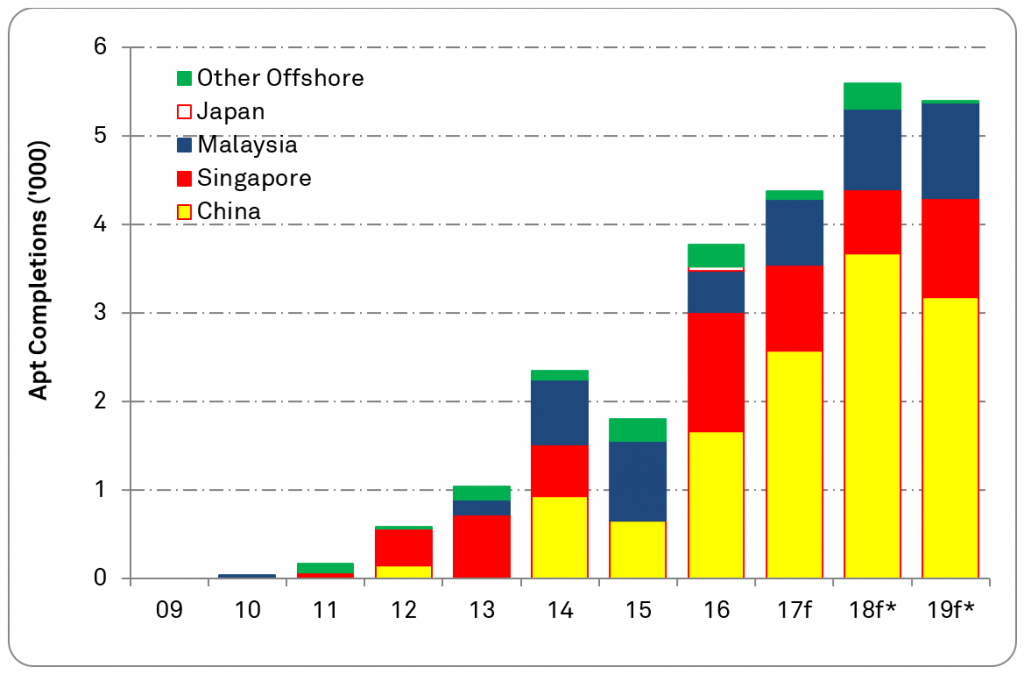 SOURCE: Charter Keck Cramer