For Mandarin version click here. 
Melbourne's Central City Region Apartment Market (33rd Edition)
Charter Keck Cramer's semi-annual State of Market (SOM) Report for the Melbourne Central City Region (CCR)* for H2-2016 is now available for subscription.
Insights drawn from analysis of proprietary demand, supply and market balance metrics (since 1990) provide an evidence base that challenges many broadly-held perceptions of the Melbourne CCR apartment market's current status.
OVERSUPPLY IN 2016 DID NOT HAPPEN
Over recent years, many economists and analysts earmarked 2016 as the year when the Melbourne CCR apartment market would face oversupply and see significant impacts to the resales and rental markets.  In fact many also thought that oversupply would have happened in 2014 and then in 2015.
Throughout this time Charter has consistently stated that these comments were misconceived and did not appreciate the market's complexity.  Furthermore, many indicators relied upon to suggest the existence of oversupply have had no regard for demand (in the absence of reliable indictors).
As identified in previous editions of the SOM, Charter's proprietary metrics have highlighted that the fears of an oversupply did not transpire through 2016.
Charter believes that the risks of oversupply in the CCR apartment market are progressively dissipating due to the rational behaviour of developers and financiers given the clear slowing of new releases and delayed commencements through 2016.
DEMAND CONSIDERATIONS
Purchaser demand, measured by First Time Sales (FTS) by developers, did slow through 2016 however it is still elevated in an historic context.  Occupier demand, expressed via the rental market, has performed significantly better than expected with average market-wide rents increasing and reported vacancy rates decreasing.
Charter's previous SOM's correctly suggested that the purchaser market would modestly decline over 2016 but would remain elevated at above-average levels in the short term
Charter observes that market normalisation is indicated by both new releases and FTS continuing to move in concert with one another.    
SUPPLY CONSIDERATIONS 
As Charter expected, it has transpired that the rate of new apartments released over 2016 has slowed, new apartment commencements have stablised, whilst apartment completions reached a new historic high through 2016.
Charter's previous SOM's, consistently highlighted that the market would self-regulate which has evidently prevented the overall market moving into an oversupply situation. This is also substantially mitigating the risk of oversupply occurring in the short-term.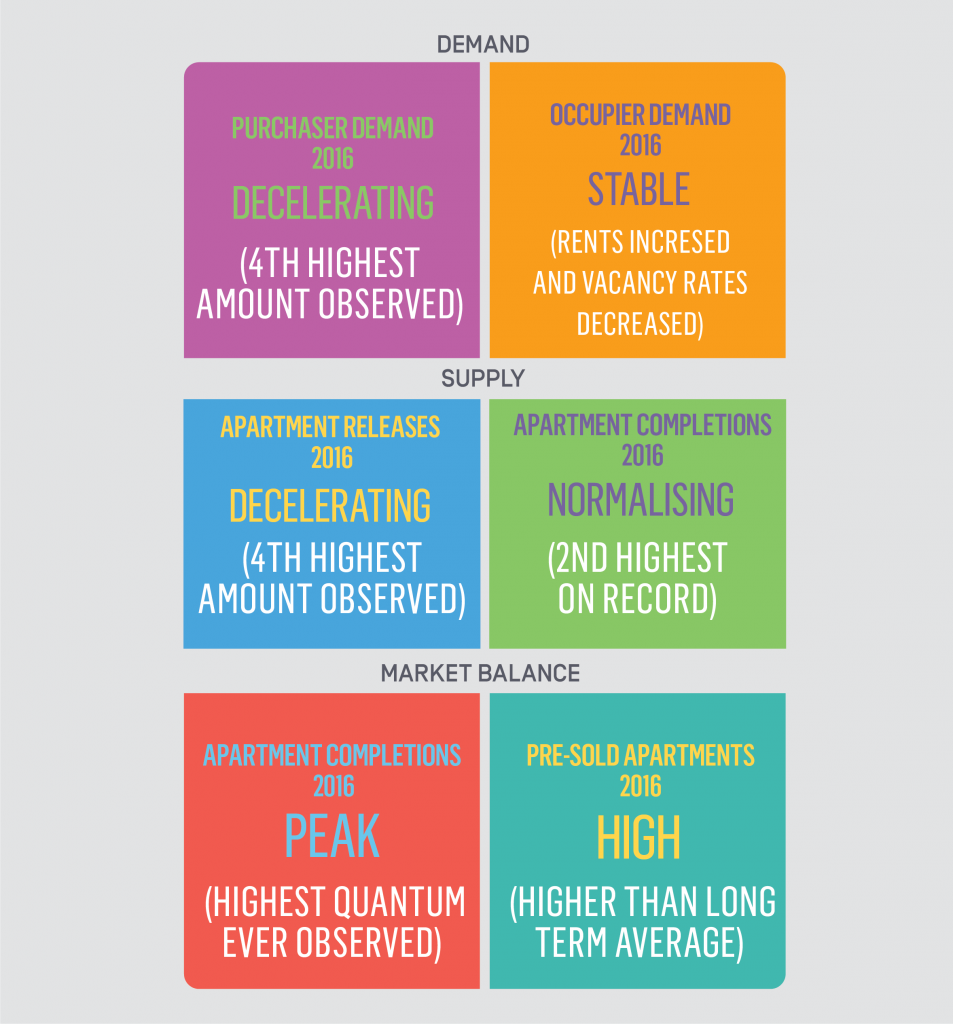 MARKET CONSIDERATIONS
Charter's research confirms that the level of total stock overhang (unsold apartments) in the CCR is at peak levels.  Critically however, the great majority of this overhang (86%) is contained in projects that are Marketed and have not yet commenced construction.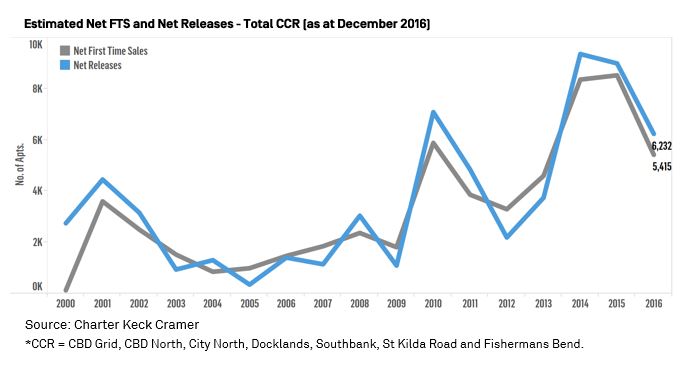 Some of these Marketed projects may not ultimately achieve sufficient presales to qualify for construction finance, or commencement will be delayed, and it is likely that current supply projections for 2018 and 2019 will be further revised downwards in the next 6 months. 
The various statistics illustrate that the market is maturing, normalising and successfully self-regulating, rather than moving into oversupply.
OUTLOOK 
The Melbourne CCR apartment market continued to demonstrate resilience to various headwinds that buffeted it again in 2016. It is expected to continue maturing and self-correcting through 2017 with the potential for oversupply, whilst remaining a risk, continuing to dissipate.
Over the next 12 months developers will limit the extent of new releases and projects will take longer to commence.  Purchaser demand is likely to further moderate given external factors whilst occupier demand is likely to remain strong given high population growth.
Commencements, in response to finance availability and lending restrictions, will also continue to moderate, whilst completions will come off the 2016 cyclical peak albeit remaining elevated.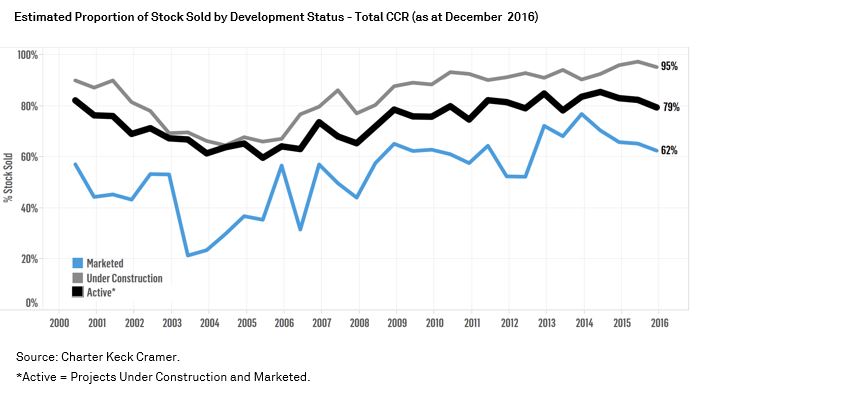 HAS CHARTER SAID ALL OF THIS BEFORE?
It is interesting to note that Charter has made many similar observations at the previous market peak when many analysts also then claimed the market was about to collapse.
Charter has consistently acknowledged the legitimacy of Melbourne's apartment market and understood its place within the hierarchy of the overall housing market spectrum.
Melbourne's Apartment Market – Facts and Misunderstandings
September 2003
Central City Apartments – Looking Beyond Today
May 2004
State of Market Report – Melbourne CCR H2-2016
Full details about the key findings and observations for the Melbourne CCR apartment market can be found in Charter's State of Market Report.