August 2017
Australia's Foreign Investment Review Board (FIRB) approvals data for FY16 highlights the estimated potential value of future foreign investment into Australia across all sectors.  This Insight continues the series of technical papers that explores the issues relating to offshore investment into Australian real estate markets.
 FIRB 2015-2016 APPROVALS
It is critical to recall that FIRB approvals data, especially with regards to residential real estate, does not measure actual offshore investment into Australia, rather it indicates potential future investment. Residential real estate FIRB approvals more closely measure a right and intention to invest in the future, rather than actual investment.  Actual investment is better measured by Foreign Direct Investment, although this metric does not offer the same detail as FIRB approvals data. 
It is important to recognise that FIRB results have meaning only within the very specific guideline and framework that FIRB approvals operate. This fact has been covered by previous Charter Insights as well as the FIRB Annual Report itself.
This important qualification has significant implications for the interpretation of FIRB real estate approvals statistics, which implies the potential to significantly overstate the actual investment from and exposure to, foreign purchasers (specifically residential apartments and Developer Exemption Certificates). Therefore, FIRB statistics, as and often reported in the media, need to be read with caution and with an understanding of the overarching narrative rather than in isolation.
DEVELOPER EXEMPTION CERTIFICATES AND FIRB
The primary issue undermining the literal assessment of FIRB approvals data is highlighted by the New Dwelling Exemption Certificates (New Dwelling ECs) which are typically granted for residential apartment projects to facilitate off-the-plan sales' process.
The cumulative value of these projects is ultimately accounted for in the FIRB approval data for New Dwelling ECs as they theoretically have approval to sell up to 100% of the project offshore (although this has since changed with reversion back to the previous 50% cap).  It is however not a realistic expectation for foreign investment within a project to reach 100% due to developer preferences, local bank financing requirements and debt covenants. The actual sales within projects given an EC will not be fully allocated to offshore purchasers given natural ceilings placed on offshore exposures by local financiers for construction finance as well as from developers wanting to diversify purchaser and settlement risk.  When attempting to determine foreign purchaser origin, as indicated by the FIRB approvals data, it is crucial to note that New Dwelling ECs are granted to the project before offshore sales commence and not to the purchaser (ultimately having no country of origin at the point at which the FIRB approval is granted).
As previously highlighted by Charter, these certificates are granted only to permitted developments with at least 50 apartments and adhering to local marketing requirements, in addition to other criteria. A New Dwelling EC (prior to May 2017) gave the right and pre-approval to all apartments within a qualitied project to be sold offshore (although fewer are ultimately actually sold to offshore purchasers).
AT THE NATIONAL LEVEL
Through FY16 the FIRB recorded $122.1 Bn in Real Estate approvals (residential and commercial related approvals). This represented a +25% increase in total real estate approvals from the previous year with the majority granted for residential real estate ($72.6 Bn, representing a +19% increase from FY15), however commercial real estate investment also recorded a significant increase (+38% to $49.7 Bn).
Of the known countries of origin for residential FIRB approvals, the most significant increase was recorded for individual purchasers from China (+31% to $31.9Bn). New Dwelling ECs (granted to both local and offshore developers) are the highest overall individual contributor to residential FIRB approvals with a +34% increase to $38.4 Bn, but these cannot be directly attributed to individual countries.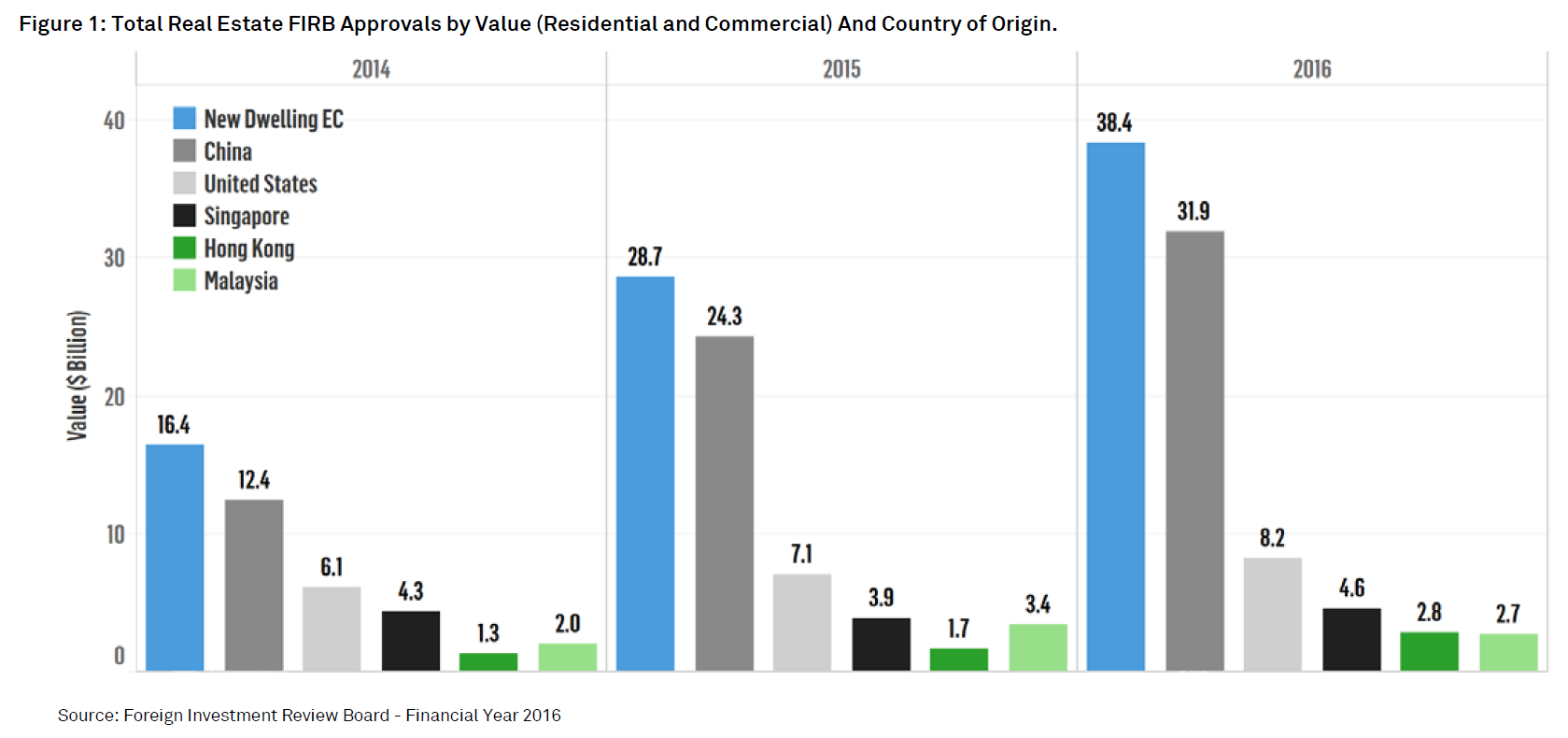 FIRB approvals to both Chinese purchasers and New Dwelling ECs have recorded consistent increases since FY14.  The United States is the second highest country of origin for individual real estate FIRB approvals, however this investment relates largely to commercial real estate and is dwarfed by Chinese and New Dwelling EC FIRB approvals. While New Dwelling ECs do not have a country of origin, there is a high probability that a high proportion of will ultimately support the entry of Chinese purchasers given observations of the market.
CHINESE INVESTMENT AND GLOBAL RELATIVITY
There is demonstrated intent and desire of Chinese investors to buy or invest in Australian real estate.  This phenomenon is not unique to Australia, it has also been observed across the US, Canada, New Zealand, UK and Europe. Global outbound capital is increasingly originating out of China and being directed to residential investment property across many jurisdictions.  Ultimately the destination of this capital is directed to nations with strong government and judicial institutions that protect property rights.  The ability to own fee simple freehold property rather than leasehold provides potential additional value to Chinese investors where such opportunities do not exist within their domestic market.
Additionally, Chinese local market fundamentals and macroprudential policies which limit inward-focused investment may push capital outbound. Capital is globally mobile insofar as relative sovereigns allow and investors look to deploy. Relative pricing and performance of alternative real estate markets demonstrate the changing relative cost for Chinese purchasers to invest in prospective global markets.
Australia (especially Melbourne and Sydney) as well as Canada (specifically Toronto and Vancouver) have received significant media attention with regards to the elevated participation from foreign purchasers into their respective real estate markets. This has encouraged government, at all levels, to enact foreign purchaser targeted policies as a result.  There is a perception from local residents the offshore investors crowd-out prospective local purchaser participation as well as the perception that additional global demand is placing upward pressure on local housing prices.  In reality, as distinct from Canada, foreign investors are highly restricted from entering Australia's established housing sector.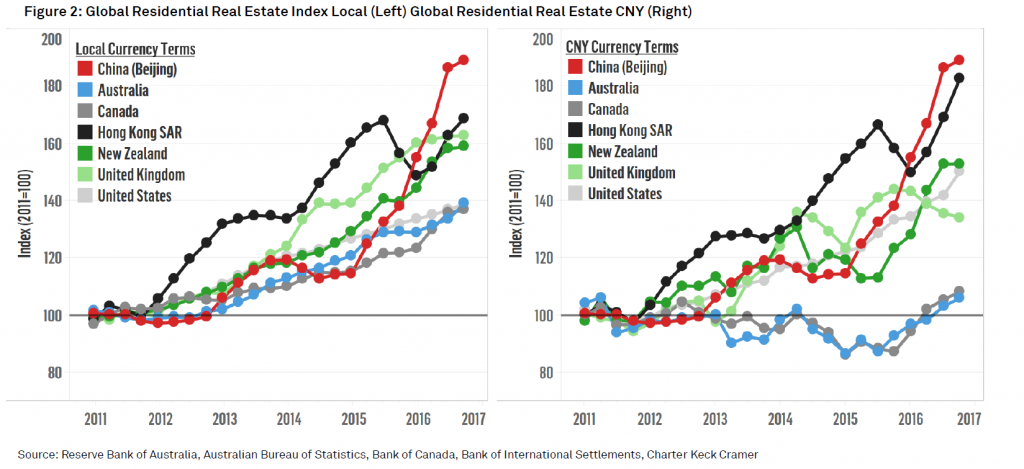 CHINESE PURCHASERS IN GLOBAL HOUSING MARKETS
To gain further understanding of these changes in relative pricing as observed by locals as well as that observed by Chinese Investors (adjusted for CNY) across global residential real estate markets has been analysed above.
In the international context, China (Beijing as proxy) has experienced the largest price growth in local currency terms since 2011, with significant uplift occurring from 2015.  Local purchasers across other markets have also experienced significant growth since 2011 such as New Zealand (median residential dwelling prices increasing approximately 60% since 2011 compared to approximately +40% across Canada and Australia). What becomes clear however, is that the pricing changes as experienced by the local purchasers in respective global markets can be significantly different to those observed from Chinese purchasers looking to invest into these markets.
From the perspective of a Chinese purchaser, growth has been muted across Australia and Canada implies these markets are relatively more affordable to that experienced by a local purchaser. Both countries experienced strong exchange rate appreciations through the 2000s from their commodities and mining booms of which both countries benefited and increased house prices relative to locals.
Relative price growth moderated as a result of the softening of relative currency exchanges in the post boom environment, offsetting much of the price growth experienced locally and resulting in comparative price stagnation in relative terms for Chinese purchasers.
CHINESE PURCHASERS IN COMPETING CITIES
In order to get an appreciation, however, it is necessary to analyse respective submarkets, especially given the global commentary regarding each respective market.  Due to limited data availability, the following will consider the state-level price growth although it is noted that real estate submarkets are significantly more granular than the state-level. While China (Beijing) has recorded significant median price growth (+90% since 2011) both Toronto and Sydney have also recorded similar (albeit softer) price growth. Vancouver has recorded strong growth although softening through the second half of 2016. Melbourne has experienced relatively high price growth but not in the same order as Sydney, Toronto and Vancouver.
What becomes telling is the respective price growth from the perspective of a potential Chinese investor, especially relative to that experienced by local buyers. The fall in exchange has muted price gains and entry prices for Chinese buyers across all Canadian and Australian cities compared to the local purchaser experience with a significant spread by 2016. 
Through FY16 (most recent FIRB approvals data) the Beijing market commenced a significant price appreciation, overtaking Canadian and Australian price growth indices from each local purchaser's perspective.  Interestingly, however when prices are adjusted for the exchange relativity, the growth observed across China (from a Chinese purchaser's perspective) has been higher than that observed for local buyers across Canadian and Australian cities since 2012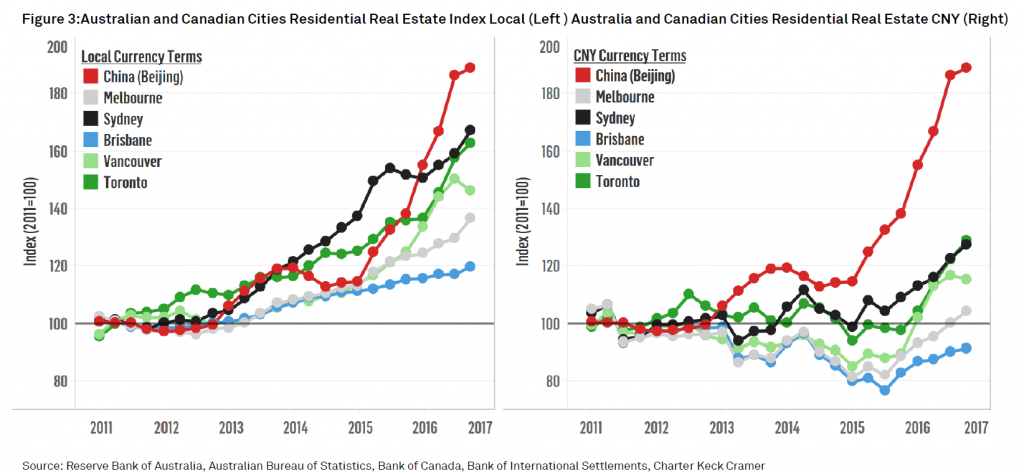 While this price relativity is important for those looking to purchase into the market, it is also relevant for those investors that purchased previously and held through this period (2011-2016).  Past purchasers experienced limited capital gains (in relative terms) in contrast to local tax liability being assessed based on local pricing terms, which would impact offshore investor returns.
FOREIGN DEMAND AND LOCAL PRICING
House prices in Australia are now relatively cheaper from a Chinese purchaser's perspective to prices faced by Australian purchasers.  However, it is important to consider if the increased participation of Chinese investors has been driving local real estate price.  The short answer is no, not in Australia.
Potential price relativity will have different impacts in different countries to the extent that capital can flow into respective new and established residential real estate assets. With regards to Australia, foreign investment can primarily only flow into new housing. Despite relative prices appearing cheaper, a report by Treasury has attributed price increases from foreign demand to approximately $80-$122 per quarter, compared to the average quarterly increase of $12,800 (approximately 1% of average gain).
This analysis would attribute the primary driver of upward price pressures in Australia to local purchasers.  In an era of historically low interest rates it allows for higher levels of debt (all else being equal) searching for assets with characteristically inelastic supply.  The inability for offshore purchasers to move the established market and be "price makers" is underscored by their constrained participation into the Australian real estate market as controlled by FIRB. 
Offshore purchasers are restricted (unless they obtain an exemption) to only purchasing new dwellings.  This purchase process effectively locks in a purchase price based on an economic cost of production with reference to established substitutable alternatives that do not necessarily align with prevailing market value. There is less ability to push prices upwards in an off-the-plan process as compared to the typical auction process for established dwellings.  The ability to move prices upward is predominantly through a highly competitive bidding process at auction, while commentary referring to affordability predominantly references the established housing market rather than the off-the-plan market which is the almost exclusive channel that offshore purchasers are required to engage in.
In FY16 there were a total of 5,877 FIRB certificates for developed (established) residential real estate across Australia. Assuming these were used to purchase established houses by temporary residents, within the financial year they were granted, this compares, 201,400 established house sales within Australia's metropolitan cities through FY16. This is representative 2.9% of all established transfers, respectively, nationally. It would be difficult to significantly influence prices nationally through 2.9% of sales activity. 
FUTURE NORMALISATION OF PRICE
It is likely that future increases in local price pressures will be more fully translated over to offshore purchases as the currency shield offsetting local nominal price diminishes. It is however noted that there is unlikely to be a significant fall in AUD/CNY compared to the 2011/2012 decline).  Notwithstanding, price volatility through the holding period between purchase and settlement will be marginally more volatile.
Relative price changes through the holding period are influenced by the percentage change in the currency rather than the nominal change.  A one cent change in exchange from $1 is a 1% change, while a one cent change from 70 cent exchange rate is a 1.5% change in relative price.  The extent to which purchasers pay for residential real estate in cash will dictate the extent to which foreign exchange factor affects the settlement or on-going servicing of financing costs of the property purchase.
LOOKING DEEPER INTO THE ISSUE
While national investment figures set a broad useful but framework, the state level analysis has more meaning and is subject to more diverse narratives.  Charter will further explore the state level implications of offshore residential real estate investment and insights derived from FIRB approvals data in an upcoming Insight