Foreign Residential Investment in Australia: Differences Across Cities
September 2017
In the previous Charter Insight the narrative of offshore and Chinese investment into the Australian national residential real estate market was explored.  At the state level, there are a range of interesting narratives that highlight the multiple implications and drivers for offshore investment into residential Off-The-Plan (OTP) real estate.
FIRB RESIDENTIAL APPROVALS – STATE COMPARISON
Whilst residential real estate FIRB approvals recorded high growth through FY16 ($72.6 Bn in FY16, +19% from FY15), it is necessary to consider state level data to better understand international investment into Australian real estate markets. Highlighted by the FY16 FIRB data, and aligning with the observed conditions, the primary destinations for (potential) offshore residential real estate investment continues to be east coast Australian apartment markets especially in Melbourne and Sydney.
While Victoria and New South Wales (NSW) remain the prime destinations for potential future investment, there has been a significant increase in FIRB approvals granted for projects across Queensland, and to a much lesser extent across Western Australia.
In FY16, Victoria recorded $28.1 Bn in total residential FIRB approvals for potential residential real estate investment, an increase of +12% from FY15 ($24.7 Bn of these were for new development, an increase of +20%), while NSW recorded $20.7 Bn, a +5% increase ($17.9 Bn of which was new development, a +10% increase). The most significant change was recorded across QLD, which recorded $16.9 Bn of total residential real estate approvals (+62% from FY15), of which $16.3 Bn was for development, increasing +74%.  This investment was directed into the Brisbane and much more active Gold Coast markets.
Of the total FIRB approvals relating to residential real estate $57 bn related to approvals for New Development, 70% of which were attributed to New Dwelling Exemption Certificates (New Dwelling ECs).
INCREASED DEVELOPER-DRIVEN FIRB APPROVALS
The shift in state level residential FIRB approvals has been driven predominantly by the increased granting of New Dwelling ECs approvals. These approvals have underpinned a comparative moderation in overall FIRB approvals across NSW and significant growth across QLD (now the second highest New Dwelling EC market) however Victoria remains the highest destination of origin for New Dwelling ECs.
Through FY16 Victoria recorded $15.28 Bn across 72 New Dwelling EC approvals (an increase from $12.85 Bn and 62 approvals the year prior) at an average New Dwelling EC value of $212 million.  This compares to NSW, which recorded 6.68 Bn across 31 approvals (down from 7.77 Bn and 41 approvals in the year prior) with an average New Dwelling EC value of $221 million. Queensland New Dwelling EC approvals have increased significantly since FY14.  In FY16 there were $13.15 Bn in New Dwelling EC approvals (increase from 6.76 Bn in FY 15 and 1.68 Bn in FY14) across 78 approvals (increasing from 39 in FY 15 and 16 in FY14) for an average approval vale of $168.5 M.
There is a demonstrated increased overall engagement of offshore purchasers into Australia's residential apartment markets.  The corresponding increase in New Dwelling ECs represents continued confidence in off the plan apartment product (in FY16) but in some instances also demonstrates a need for developers to drive sales volumes by accessing offshore investor demand, especially for projects of scale (there is a time component to pre sales due to sunset clauses).
The use of New Dwelling ECs (and the extent of actual sales derived from them) is driven by multiple developer specific circumstances and can include, among other factors, offshore market appetite for real estate investments, the risk profile of the individual developers as well as debt covenants placed on construction loans by financiers.  This self-regulating process, underpinned by local financiers, constrains the ability for developers to sell more than approximately 50% of their stock offshore (although depending on how the project is financed and the level of debt used, there is scope for a project to exceed this proportion).
Figure One – Figure 1: Residential FIRB Approvals – State FY14-FY16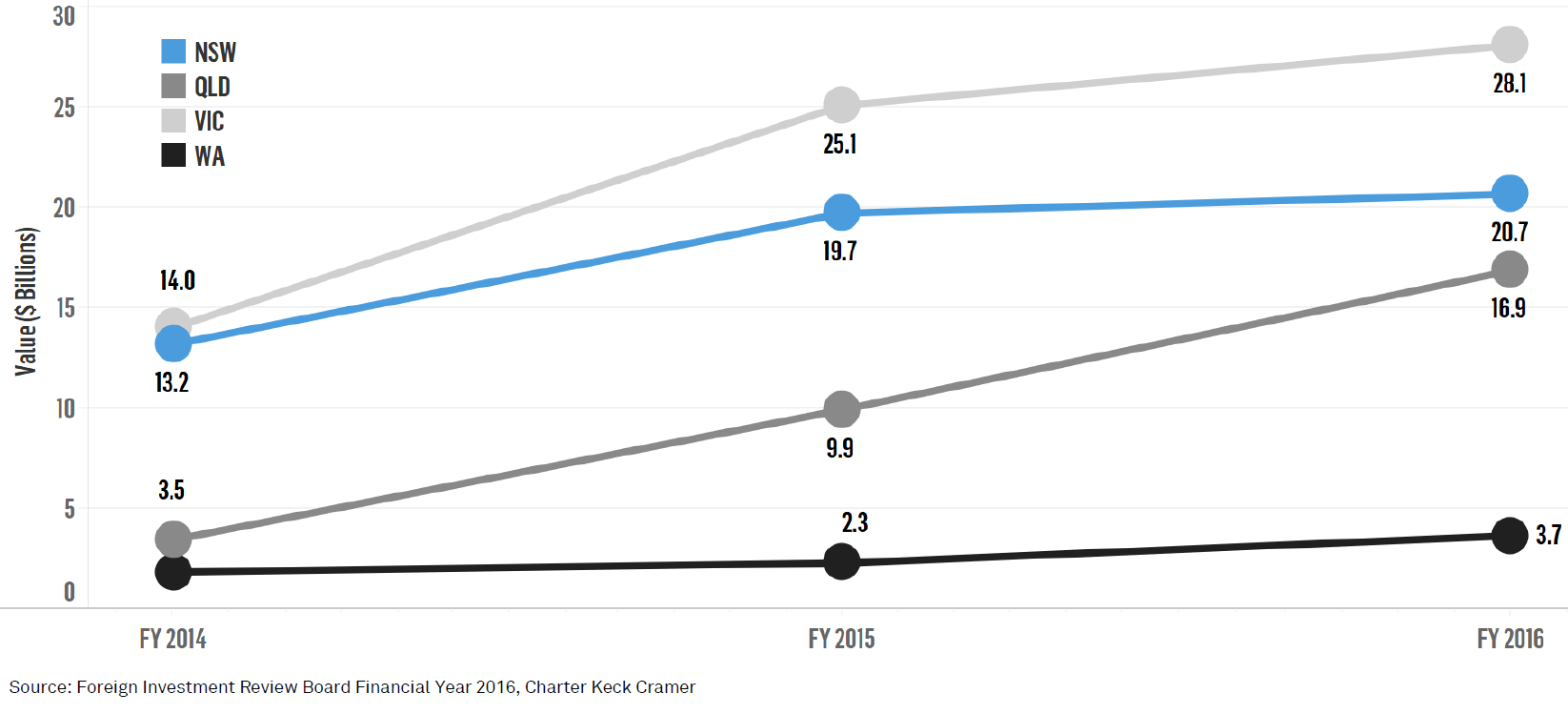 LOCAL MARKET CONDITIONS DRIVE FIRB APPROVAL REQUIREMENTS
The comparison between the degree of New Dwelling ECs between Melbourne, Sydney and South Eastern Queensland also highlights the relative competitive advantage of apartments within each respective market, from a local purchaser's perspective.  Sales volumes can be driven by a combination of local and offshore purchasers. The degree to which developers access offshore purchasers can highlight the relative affordability of apartments as a substitute for alternative housing options across a market. The more affordable new apartments are with regard to the established market, the better the proposition is to local purchasers, which helps to underpin local purchaser volumes.
Figure Two: Developer Exemption Certificate FIRB Approvals – State FY14-FY16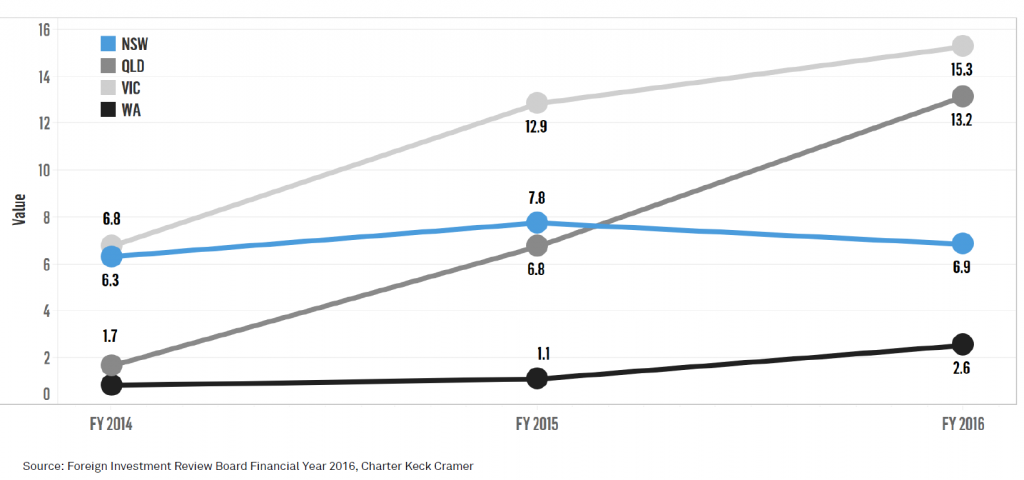 In a market where pricing pressures are significant, such as Sydney, sales volumes can be driven, to a greater extent, by local purchasers given the greater price trade off to access alternative competing options. In Melbourne, this price trade off is not as strong and New Dwelling EC continued to trend upwards (although at a lower rate).  The largest move has been the continued uplift and New Dwelling EC approvals across Queensland, demonstrating an increasing recognition from developers that it is (was) necessary to support sales volumes through offshore purchasers rather than relying solely on local purchasers (to the extent NSW is able) given the lager profile of projects released in the market.
CASE STUDY: MELBOURNE VS SYDNEY
Analysis of Charter's proprietary apartment database provides a greater understanding of how FIRB approvals will translate into settlements across each respective market and gain further understanding as to the market context in which these settlements will occur.  Given the size and maturity of their respective apartment markets the following analysis will concentrate on New South Wales (Sydney) and Victoria (Melbourne). The submarkets analysed will include the Central City, City Fringe, Inner and Middle Markets which effectively equates to a 20km radius around each relative CBD
Each respective market is underpinned by different narratives and as such it is important to understand the differences that define these markets. This relates to predominant location of new supply as well as the profile of projects offered in each market.  The Melbourne apartment market is much more highly focused to the Central, City Fringe and Inner markets but is increasingly decentralising. Sydney is the inverse with a focus on the Inner and Middle regions and comparatively limited Central apartment market.
To bring further meaning to the potential impact of offshore investment into Australia, illustrated through the FY16 FIRB approvals data (which highlights the significance of New Dwelling ECs), only projects of 50 apartments or more have been assessed (a primary qualifier for New Dwelling ECs).
Figure Three: Expected Completion of Projects Commencing Marketing through FY16 by State (50+ apartments per project) Sydney and Melbourne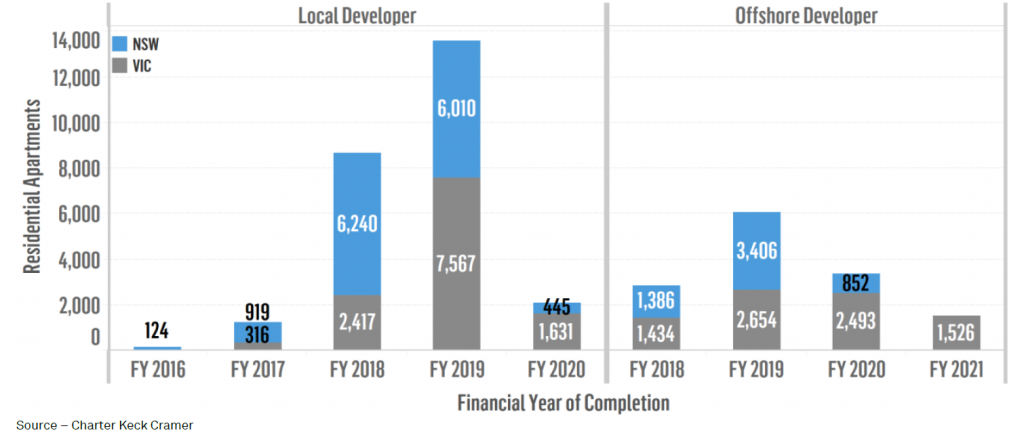 The number of total apartments contained within projects (of 50 apartments or more) that commenced marketing through FY16 (an assumed proxy for the FIRB approvals in FY16) across the Central, City Fringe, Inner and Middle submarkets was approximately equal across both Melbourne and Sydney (19,400 and 20,050 apartments respectively). The completions and settlements for these projects are predominantly expected through FY18 and FY19, however given the relative attributes of projects, there is a much higher supply expected through FY18 in Sydney compared to Melbourne. This has two potential impacts of spreading significant completions over a two year period rather than three, but also increases the likelihood that settlements will occur in the market environment that exists currently than allow for the market environment to shift through the construction phase.
Projects offered by offshore developers through this period have completions predominantly expected through FY19 across both Melbourne and Sydney.  There are higher levels of supply expected beyond FY19 from projects by offshore developers compared to projects from local developers which indicate a greater propensity, on average, for larger projects to be delivered by offshore developers and the likelihood of a stronger requirement for these projects to be driven by overseas investors.
Across both cities, supply is still predominantly delivered by local developers compared to offshore developers. Local developers have traditionally relied upon local financiers, which would limit the extent to which New Dwelling ECs could allocate more than 50% of sales to FIRB approved purchasers.  Those using alternative financing may have less strict lending covenants but this is unlikely to have been a major source of funds through this period, especially for local developers.
MELBOURNE
Across Melbourne there are two major observations. Local developers are delivering a higher quantum of stock outside the Central City whilst offshore developers predominantly favor larger projects within the Central City.
For local developers, projects delivered in the Inner region represent the most stock to be delivered through FY19.
While offshore developers still predominantly favor the Central City (for projects released in FY16) there is an increased maturity across the market with diversification of project locations.  Of note is projects in the Middle region representing the second highest location for these projects after the Central City.
Figure 4: Expected Completion of Projects Commencing Marketing through FY16 by Subregion (50+ apartments per project) – Melbourne.

SYDNEY
The structural difference of Sydney is highlighted in the location of apartment projects commenced across the market through FY16. There is significant geographic concentration from local developers while offshore developers have greater geographic diversification.
The predominant location for projects containing 50 or more apartments is across the Middle region of Sydney.  The profile of projects also include many more comparatively smaller scale projects with shorter delivery programs that allow stock to be completed and brought to market sooner implying a significant quantum of apartments from FY16 releases due for completion and settlement through FY18.
Figure 5: Expected Completion of Projects Commencing Marketing through FY16 by Subregion (50+ apartments per project) – Sydney.3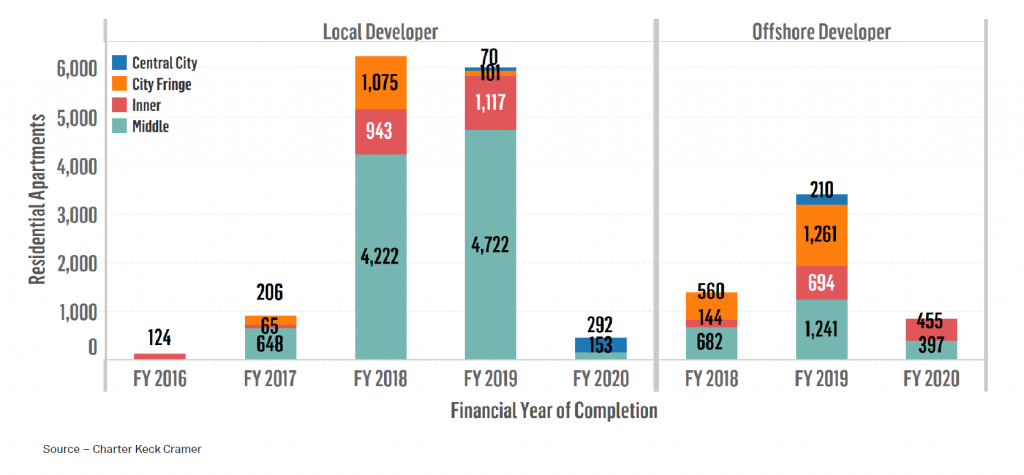 CONCLUSION
Analysis of state level FIRB data, rather than simplistic conclusions drawn from aggregated national data highlights interplay of offshore investment into Australian residential real estate. The capacity for offshore purchasers to invest in Australian residential real estate is predominantly determined by the degree to which developers require their participation to support their project and relative sovereigns allow.  Offshore purchasers cannot invest in property that is not offered to market, with the levels of increases and decreases in FIRB approvals also impacted by the level of developer releases in the first instance.
State level market fundamentals influence developer strategy and the degree to which developers engage with offshore purchasers to diversify purchaser risk as well as drive sales volumes.  The reliance on offshore purchasers to drive sales volumes is affected by the pricing fundamentals defining their respective markets and the profiles of projects released into these markets.
Through FY16 developers within Sydney had less reliance on offshore purchasers to drive sales volumes due to a combination of pricing pressures and overall smaller project requiring lower sales volumes. Price pressures were still high in Melbourne, however projects of significant scale required support from offshore purchasers to assist in driving presale volumes. Alternatively, Brisbane has seen the offering of more projects of scale in a comparatively lower price environment, which has implied the requirement of higher participation from offshore purchasers and increased New Dwelling ECs.  All these considerations will have further implications around the timing of settlement of these projects with risk factors ultimately building from the bottom up (sub state level) to the national level for any given year. Understanding when and how many projects are due for settlement will allow greater insight for the requirements of developers and financiers to mitigate market risk.
This is coupled with constraints from local and international policy in addition to potential further constraints placed by financiers relating to their allowance for non-local sales. This factor is governed by the limited ability for purchasers to invest in anything other the OTP sales.
TO download a printable copy of this insight please click here.
Disclaimer
The Property Insights have been prepared by Charter Keck Cramer (Charter). The information provided is not intended to provide a sufficient basis on which to make an investment related decision. It is intended to provide observations and views of Charter. Any reliance placed on this material is at your own risk. If you require specific advice or information, please contact Jonathan Mayes – Senior Analyst, Charter Research at Charter Check Cramer.