April 2020
The onset of COVID-19 will bring about a reduction in net overseas migration into Australia.  This decrease will impact the residential sector, in particular the rental market.  However, some locations will be more impacted than others.
For more than a decade, net overseas migration into Australia has averaged approximately 230,000 persons per annum, helping drive unprecedented demand for new dwellings in Australian cities. However, with the onset of COVID-19, the Federal Government's decision to close Australia's borders will reduce net overseas migration, impacting residential markets.
When the Australian Government banned arrivals from China because of the COVID-19 threat earlier this year, speculation arose as to what impact this might have on the local rental market. This was in part due to the expectation that many international students, who would require rental housing upon arrival, were not expected to make it to Australia for the commencement of the academic year. However, having entered Australia via a second country, many of these students did arrive as planned, and the strength of the rental market was sustained, at least temporarily.
Net Overseas Migration – In Decline
The Federal Government's decision to introduce an indefinite border lockdown is now translating to a significant reduction in net overseas migration.
Data provided by the Australian Bureau of Statistics indicates that overseas arrivals for education were 40% lower in February 2020 than the same month a year earlier. Total arrivals from China (across all travel sectors) were down by 90%.
With the February travel ban from China extending to all countries in March, the reduction in arrivals has impacted all visa types, not just overseas students. With net overseas migration expected to be close to zero through to June, the total for 2019/20 will be around 150,000-170,000 for 2019/20. With the full reopening of borders likely to be one of the last easing measures of the lockdown, net overseas migration has the potential to be close to zero in 2020/21 until travel flows are again allowed.
This fall in overseas arrivals in particular temporary long- term migrants, is likely to have a substantial impact on demand in rental markets, as most new arrivals initially seek a rental dwelling in which to live.
Rental Markets at Risk
In seeking to understand the impact of reduced net overseas migration on rental markets, it is important to note that these will not be geographically uniform within each city. The ABS recently released Regional Population Growth dataset, provides insight into those areas likely to be impacted most by a fall in net overseas migration.
For the purpose of understanding which rental markets are most at risk, Charter has mapped those locations in Sydney, Melbourne and Brisbane, where annual net overseas migration inflows were highest relative to the existing population (in 2018/19).  In short, the locations that have the highest exposure to a reduction in new overseas migrants fit into three categories:
Inner city areas being closest to jobs and educational institutions;
Suburban areas surrounding and near to, major university campuses; and
Regions with an established overseas-born population.
In Sydney, net overseas migration into Parramatta in 2018/19 was equivalent to 8% of the population. Notably, Parramatta fits all three criteria outlined – employment, education and an established overseas born population. Pyrmont-Ultimo, and Sydney-Haymarket-The Rocks, also fit into this category. Meanwhile, Kingsford and Kensington are both located in close proximity to the University of New South Wales.  Geographic pockets such as Auburn-North, Burwood-Croydon and Hurstville have significant overseas-born populations.
Net Overseas Migration in 2018/19 as % of Total Population (Sydney SA2 Regions)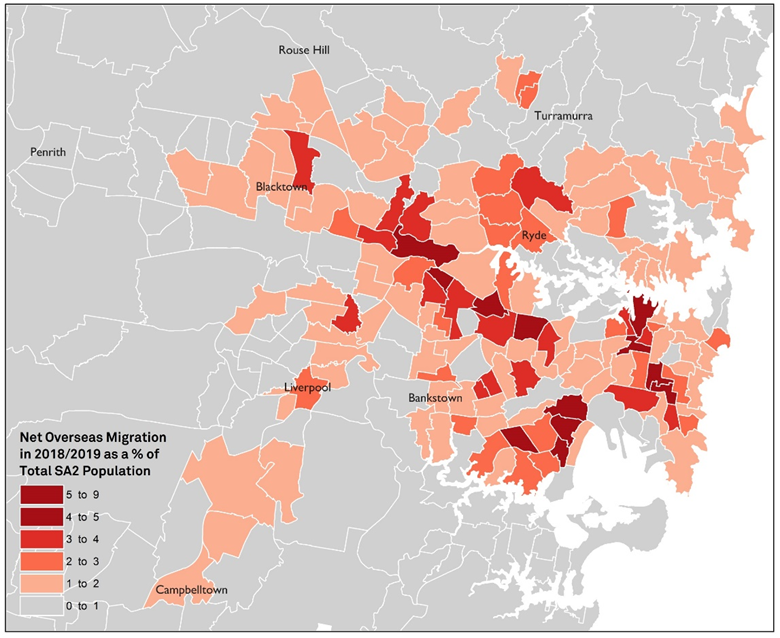 Net overseas migration into Melbourne, Carlton, Melbourne and North Melbourne SA2s in 2018/19 accounted for between 5% and 9% of the existing population. These regions are all in proximity to the University of Melbourne and RMIT, while also being central to Melbourne CBD and inner Melbourne jobs. Clayton, Burwood and Kingsbury are all close to Monash, Deakin and Latrobe Universities respectively. Locations such as Box Hill and Springvale already have an established overseas-born population.
Net Overseas Migration in 2018/19 as % of Total Population (Melbourne SA2 Regions)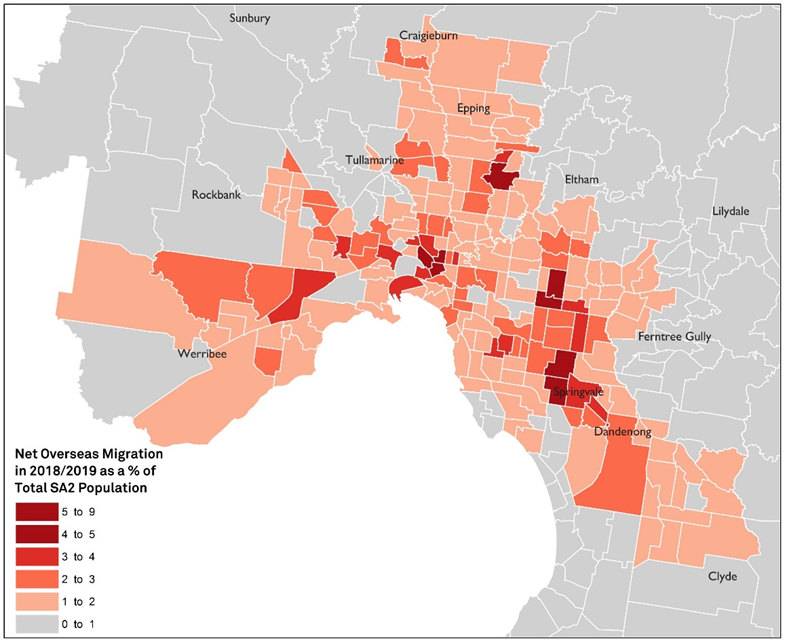 Net overseas migration is less prevalent in Brisbane and contributes less to regional population growth. Without large concentrations of established overseas-born population, migrants congregate around the CBD and the inner- city campuses of University of Queensland and QUT, as well as the Mt Gravatt campus of Griffith University.
Net Overseas Migration in 2018/19 as % of Total Population (Brisbane SA2 Regions)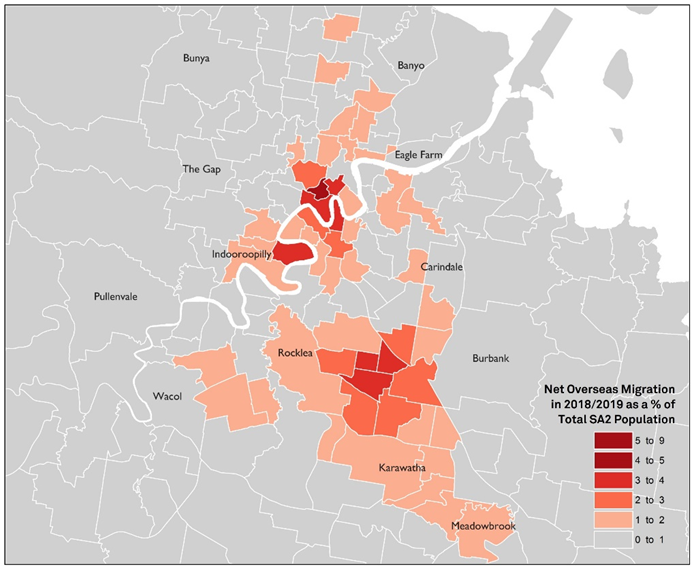 Notwithstanding the additional impact of new supply, rental markets at most risk from the decline in tenant demand due to lower net overseas migration, are those near to, or in proximity to the suburban-based universities. Unlike the central city areas where access to employment and other lifestyle attractors have the potential to help support their rental markets, rental properties in these locations will likely experience thinning demand and the prospect of landlords reducing rents to attract tenants.
Rental markets in those locations with established overseas-born populations are less vulnerable to the reduction in net overseas migration as recent arrivals are likely to have already found suitable housing with existing social networks such as family or friends.
With approximately 40% of Australia's international students commencing their studies in the second half of the year, short term risks to the rental market will exist so long as Australia's borders remain closed. This will be further compounded by rising unemployment, particularly in the retail and hospitality sectors because of COVID-19 related shutdowns.
Net Overseas Migration & The Rental Outlook
In the short term, the extent of net overseas migration into Australia will remain uncertain but further falls will likely weaken tenant demand and negatively impact the rental market.  A continued reduction in demand does, however, have the potential to moderate the under-supply issue that was emerging in Sydney, Melbourne and Brisbane as the current construction pipeline fell away.
Longer-term, the variety of push and pull factors that have drawn vast numbers of overseas migrants to Australia in recent years, will likely be afforded even higher value once COVID-19 is brought under control. Australia's relatively successful response to containing the outbreak has the potential to make it an even more attractive location for overseas migrants and foreign investment.
Beyond its broader contribution to the national economy, net overseas migration is a significant driver of Australia's residential property sector. While the current pause presents policy-makers with an opportunity to refine the way our cities are planned, a rapid return to the long-term average, or perhaps even an increase in the volume of net overseas migrants coming to Australia may present an attractive proposition for both Government and the property sector alike.
Charter will continue to monitor key, leading indicators and changes to net overseas migration to ensure that detailed insights into the future direction of Australia's residential market can be provided.