Join Charter Keck Cramer's Research & Strategy team as they take a deep dive into Melbourne's apartment market.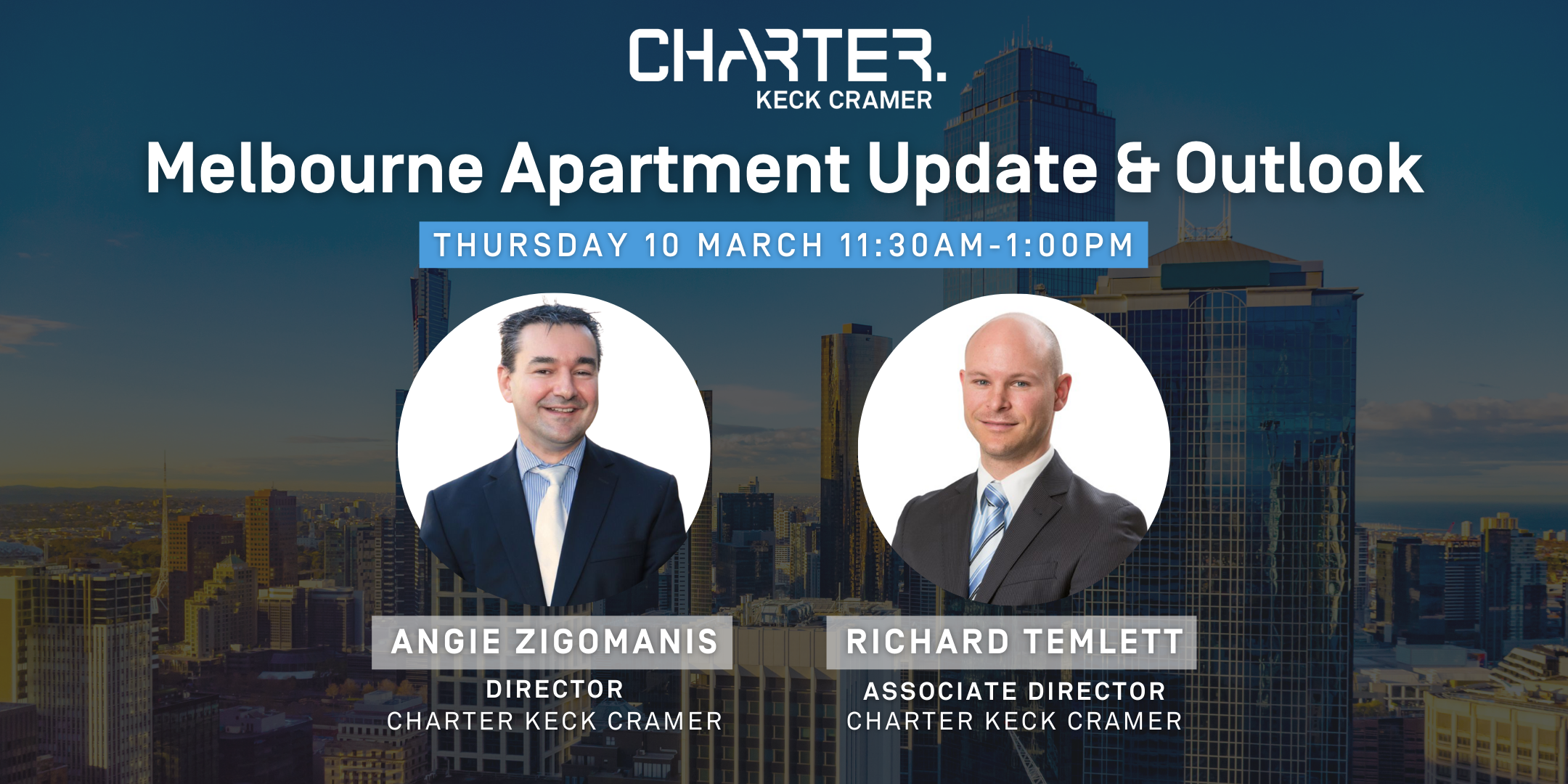 The off-the-plan apartment market has been sluggish coming out of the COVID lockdowns. In comparison, the detached housing market has surged. Green shoots for apartments are now emerging as investors begin to re-enter the market. Demand will be further aided by the reopening of international borders, and a widening of the gap between house and unit prices that is making units more affordable in relative terms. Institutional funding is pouring into the apartment sector via build-to-rent projects, while a wave of new public transport infrastructure will provide more opportunities for transit-oriented-development. This all points to an increasingly positive outlook for the apartment market.
Charter will highlight trends in new apartment supply based on its soon-to-be-released State of the Market report and will also present exclusive insights from its proprietary granular apartments database currently in development. Sign up here to receive the State of the Market report ahead of the event.
Some of the issues explored will include:
the outlook for overseas migration,
movements in rents, prices and yields,
the evolution of demand since the investor-led boom of the mid-2010s and how the market has responded post COVID,
changes to the supply pipeline across size, geography and timing,
trends and insights into the build-to-rent sector.

WHEN: Thursday 10 March 2022
TIME: 11.30am – 1pm
LOCATION: Zinc at Federation Square, Melbourne
TICKET PRICE: $95 per person
HOST: Charter Keck Cramer
We look forward to having you join!
---
Important Event Information
Charter Keck Cramer ("Charter") complies with COVID-19 safety requirements, including Government public health directions. The safety of our guests, speakers and staff is our top priority and this event will be run in accordance with relevant Government public health directions. This includes (but is not limited to): density limits, the requirement of wearing face masks (other than when eating and drinking) and verifying that only fully vaccinated guests are attending at the entrance of the event. Please do not attend this event if you present with COVID-19 symptoms pre-event or are required to be in isolation. If you are no longer able to attend this event due to COVID-19, please contact us via events@charterkc.com.au to discuss options. If the event is cancelled due to COVID-19 restrictions, you are entitled to a full refund of your ticket price as per the cancellation policy.
Event cancellation policy
Charter will offer a full refund of your ticket price if the event is cancelled due to updated Government public health directions. All cancellations must be completed via Eventbrite and refunds will be applied to the original payment method nominated when completing your reservation via Eventbrite.
Please note that no refunds will be given to cancellations made seven (7) or less business days prior to the event as catering arrangements have already been confirmed. We are happy to accept a replacement attendee at no additional cost. To replace the original registrant with another attendee, please write to events@charterkc.com.au.
Event terms and conditions
Charter reserves the right to alter speaker/s or the program of this event. Charter reserves the right to refuse entry to or remove attendees from the premises (in their sole and absolute discretion). Your registration is accepted on the basis of these conditions.
Charter will undertake photography and/or video at this event. These images and footage may be used by Charter in future promotions that include but are not limited to website, direct mail, marketing collateral, email, sales documents and other uses by Charter. Should a registered participant seek to be excluded from such future uses of images, please write to events@charterkc.com.au.
Charter will also send you a separate email seeking your permission to store your information in the Charter database. This information will only be used to communicate Charter news and insights and to invite you to future events.