There has been a lot of discussion lately about the impact of rising interest rates, increasing inflation, increase in construction costs, falling vacancy rates as well as increasing rental rates on the overall housing market across Australia. It is important however to critically analyse how this is playing out in the apartment markets in Sydney, Melbourne and Brisbane so as to identify and understand the opportunities and risks in these markets.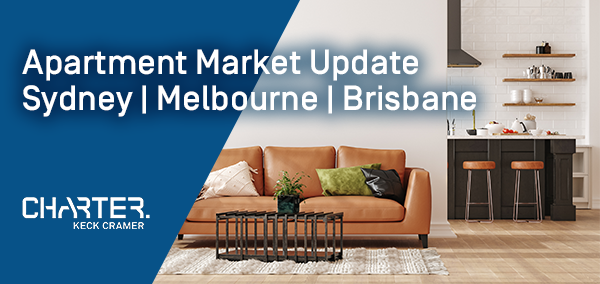 9 June 2022
One of the ways Research & Strategy analyse these distinct apartment markets is to consider the number of apartments launched 'for sale' to the market. In many respects this is a good proxy for developer sentiment, because a developer will typically only launch a project to market when they are confident they can achieve sufficient presales to obtain construction funding.
As set out in the charts below, apartment project launches (projects launched 'for sale' to the market) are substantially below their respective 10-year average in Sydney and Melbourne, and marginally below the 10-year average in Brisbane.
Charter Keck Cramer is working with several clients who are actively looking for apartment sites or have purchased sites in anticipation of the start of the next apartment market cycle (which has already commenced). The likely mismatch between apartment supply and demand has been highlighted in the Charter Keck Cramer State of the Market insights earlier in the year. To download the report, visit the Charter Keck Cramer website.
There are several apartment projects that have launched (or pre-sold) based on pre-COVID-19 revenues but are now not feasible due to current COVID-19 construction costs. There are also numerous projects that have development approval but are not being launched to market. Understandably, many developers are afraid to push prices given current market conditions.
The most common question asked is whether apartment prices can be pushed in certain projects. The answer to this likely lies in the sub-market in which the project is located as well as whom the primary target market(s) are.
Thoughts are outlined below:
-Owner occupier downsizes / rightsizers. There is substantial underlying latent demand and significant opportunity to deliver apartments to this segment of the market. This target market is ageing and many are seeking to (or will be forced to) downsize / rightsize in the short to medium term as their living preferences and housing requirements change. Many of the households in this target market don't need finance given they have paid off (or have significant equity in) their family home and are therefore less impacted by rising interest rates. Furthermore, many of these households have also seen the prices of their existing dwelling increase by of up to +30% during COVID-19 alone. To put this into perspective, even if house prices decrease by -10% and apartment prices increase by +10% they are better off than before COVID-19. Finally, this pool of purchasers has potentially also just increased in depth due to the recent amendments to the "downsizer scheme" (for 55+ year olds) recently announced by the Federal Government.
-Investors. Across all three cities, vacancy rates are decreasing and weekly rents are increasing. Given interest rates are now rising, investors will be seeking assets to use as a hedge against inflation and rising rates. As residential rents grow in an inflationary environment, apartments have the potential to achieve this goal.
-First home buyers. Whilst this segment of the market is the most price point sensitive, there are a number of demand side incentives to assist first home buyers to purchase an apartment and get onto the property ladder. Whilst rates are increasing, it is important to appreciate that they are still low by historical standards and many households have saved money for a deposit during lockdown. Many of these buyers have now been priced out of the established housing market and with their lending capacity diminished it is anticipated that demand from them stands to be driven into the apartment market.
At present, times are very uncertain and no one wants to be the first mover in terms of pushing price. The data in the charts however paints a picture of severely undersupplied apartment markets (which are likely to become even more undersupplied) which presents opportunities for developers and investors who develop or invest in the right areas and understand their target markets.
Charter Keck Cramer anticipates that as the pressure and mismatch between supply and demand continues to build, prices will be forced to increase. The target markets that will be able to respond most quickly and easily will be the downsizers / rightsizers as well as investors – both of whom will be making purchasing decisions which are driven by the fundamentally different circumstances they now find themselves in.
Apartment Market – Greater Melbourne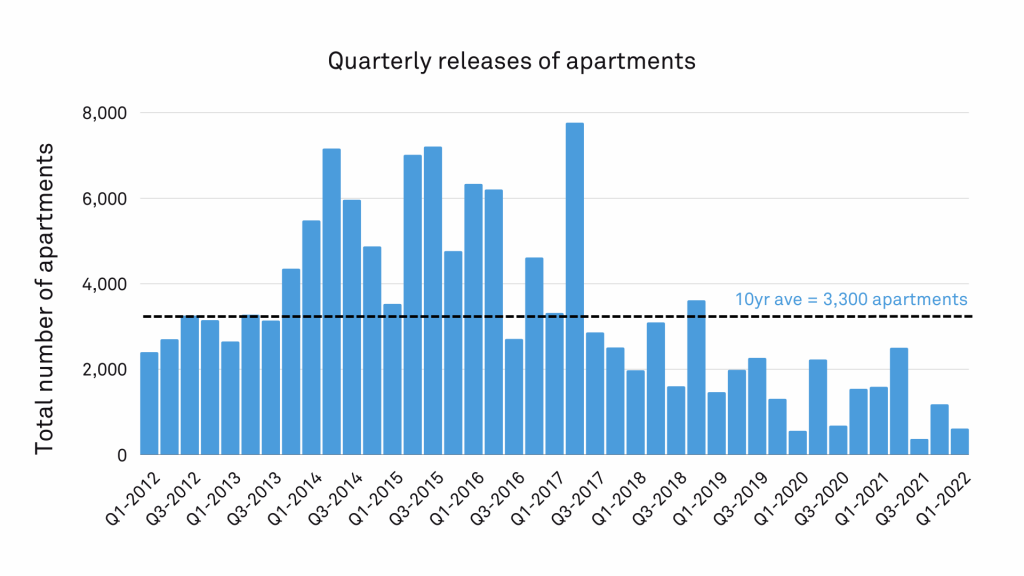 Apartment Market – Greater Brisbane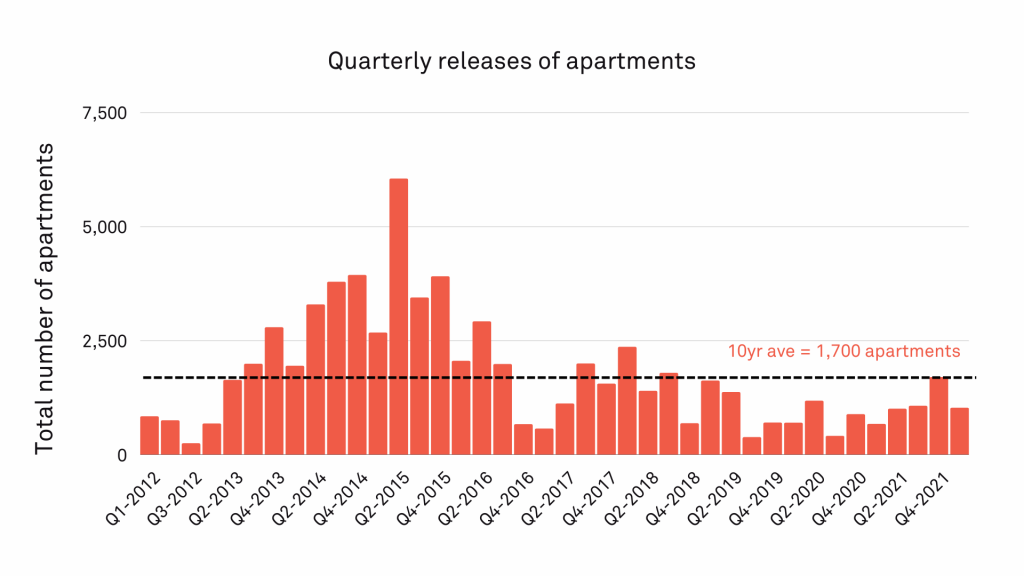 Apartment Market – Greater Sydney