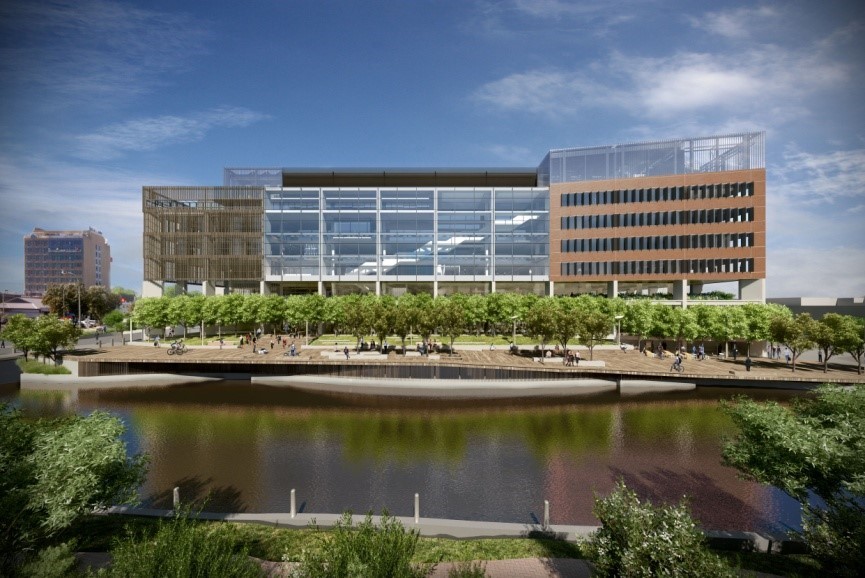 Project Background
Charter provided a broad range of property and development advisory services for South East Water's New Head Office Project in Frankston. At completion, the building was the pinnacle of accommodation offered outside of the CBD.
Site identification (through an EOI process, identifying a prized waterfront site in Frankston);
Transaction advice (including leading negotiations with Frankston Council in relation to site acquisition, sale conditions, etc.);
Advice in relation to merits of ownership versus leasing;
Financial modelling input into SE Water's business case to Department of Treasury and Finance, consultant team selection and appointment, design and project management, tendering, builder appointment (including contract negotiations) and construction contract administration.
Project Team
Architect: BVN
Builder: Probuild
Client: South East Water
Key Construction Facts
$80M contract value
New 11,500m2 corporate office headquarters, including integrated office fitout
6 retail tenancies, 496m2
Completed December 2015
Charter Keck Cramer's Role & Project Outcome
Charter was engaged as Development Manager for the project and adhered to a tight project budget and program whilst remaining committed to delivering design quality and excellence.
Charter's services included:
Leading an accommodation and workplace strategy solution;
Preparation of business case for Victorian Government Department of Treasury and Finance;
Planning permit application/amendment;
Coordinating the project delivery strategy;
Managing the documentation and tender phase;
Construction and contract superintendence;
Meeting South East Water's space requirements and sustainability goals (5 Star Green Star & 4.5 Star NABERS)
Obtaining approvals from the Office of the Victorian Government Architect, the Victorian Design Review Panel and Frankston City Council
Securing a Planning Scheme Amendment to rezone the land
Managing a high level of community consultation
An outstanding built form outcome delivered within budget
For a more detailed analysis of this project, click here.