When South East Water move into its new headquarters, it will own and occupy arguably the best suburban office building in Melbourne, on a unique site, offering spectacular views of Port Philip Bay.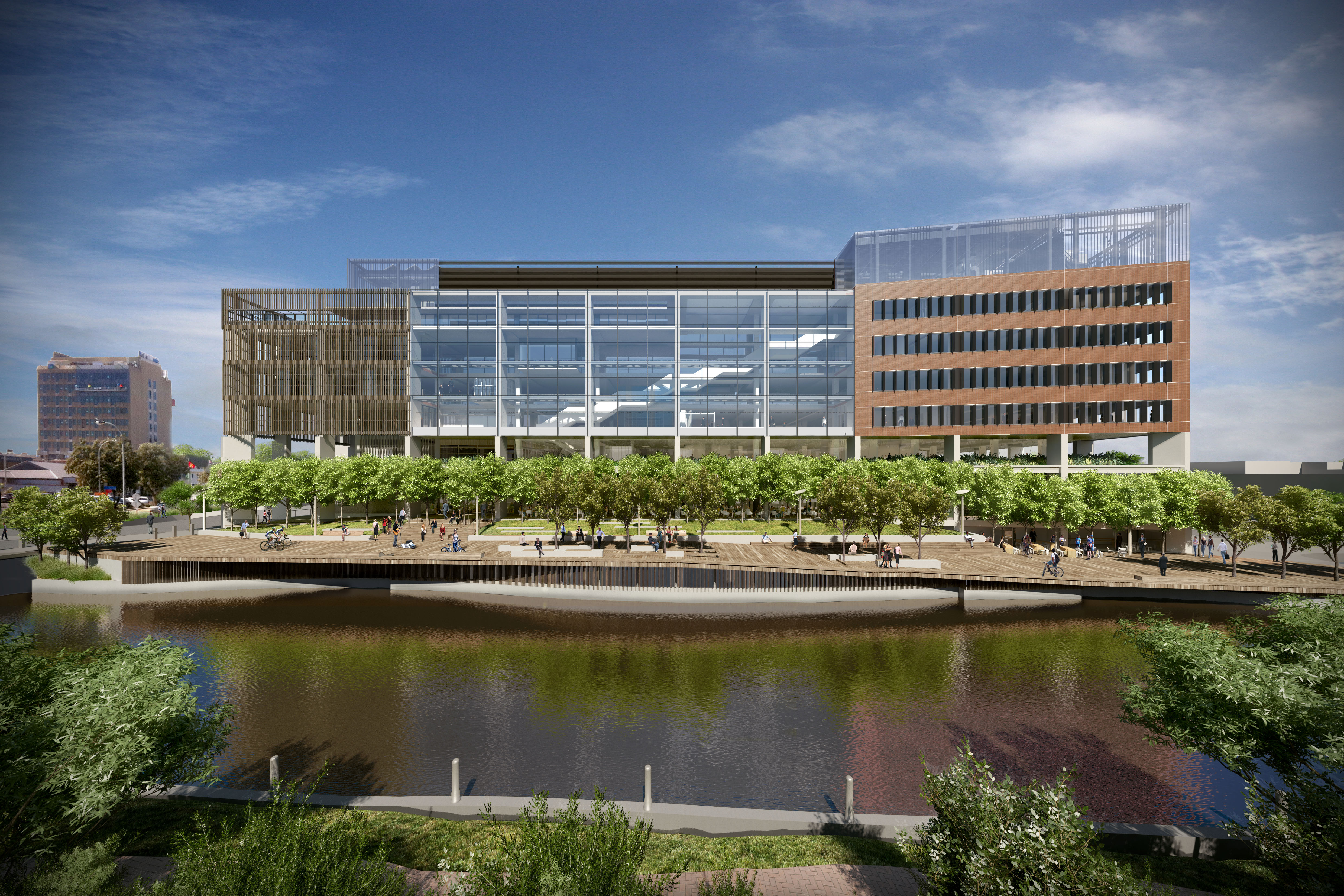 The Accommodation Problem
In 2011, South East Water recognised its efficiency was being detrimentally impacted by a fragmented workforce operating out of three locations (in Heatherton, Lynbrook and Dandenong South).
Not only was the workforce facing a locational challenge, the existing workplace and office space did not align with South East Water's goal of becoming an Employer of Choice.
The Accommodation Plan
To address this significant bottom line cost to its business, South East Water engaged Charter Keck Cramer to devise a workplace strategy and deliver an accommodation plan.
From the outset, Charter recognised the vital need to incorporate South East Water's future and holistic workplace strategy in order to deliver the ideal solution.
To be recognised as an Employer of Choice, South East Water would need to provide an outstanding environment for their employees. One that would facilitate efficiency in work processes, offer appropriate amenities and serve as part of a talent acquisition and retention strategy.
With the support of South East Water, Charter enlisted the aid of Work Space Logic, a consultancy specialised in the use of space as a strategic tool to support organisational performance and productivity.
South East Water embraced a workplace strategy designed to be cost effective, productive and supportive of project objectives and Charter was then able to determine a property solution to support the technology, systems and processes that enable best practice and support the organisation's operational goals for the next 20 years.
The Business Case
The new office, (12,500 sqm of NLA) is designed to optimise the use of space and provide a customised environment to support the organisation's culture and productivity needs at a new and singular location in Frankston, the heart of South East Water's service region.
South East Water's move will significantly reduce operating costs from 2015-2016.
Charter's financial analysis highlighted a commercial advantage for South East Water to own, rather than lease their new headquarters over the medium to long term.
The benefits of ownership included an excellent long-term saving for South East Water as well as creation of a substantial asset on its balance sheet. The analysis also informed South East Water's business case to the Department of Treasury & Finance.

Site Procurement
Charter critically evaluated four broad options that assisted South East Water to make the best-informed decision from a workplace, property and financial perspective:
Consolidate South East Water's operations into a single building within which it currently occupied;
Relocate to another business park;
Relocate to a Major Activity Centre;
Own or lease a new facility.
Charter managed an Expression of Interest process that identified more than 40 suitable sites. The selected site was a Council owned car park, adjacent to the Frankston Central Activity Area with a frontage to Kananook Creek and uninterrupted views of Port Phillip Bay.
Securing the site for South East Water involved navigating a path through the legislative constraints by which the Council was bound. Charter took carriage of the negotiation process to secure the site on the best possible commercial terms and facilitate a process that allowed the parties to negotiate privately to reach a mutually beneficial outcome.
Development & Project Management
Charter acted as Development Manager for the project and adhered to a tight project budget and program whilst remaining committed to delivering design quality and excellence.
This meant carefully appointing an outstanding design team, namely: BVN Donovan Hill, Bonacci Group, Umow Lai, Inhabit Group, SJB Planning, WT Partnership, Aspect Studios, Marshall Day, PLP Building Surveyors and Ratio Consultants.
The appointment and collaboration of such a high calibre project team was integral to:
Meeting the extremely tight project milestones without compromising built form outcomes;
Meeting South East Water's space requirements and sustainability goals (5 star Green Star & 4.5 star NABERS);
Obtaining approvals from the Office of Victorian Government Architect, the Victorian Design Review Panel and Frankston City Council;
Securing a Planning Scheme Amendment to rezone the land;
Managing a high level of community consultation.
Charter Keck Cramer is managing the new office from site identification through to project delivery.
Success Story in the Making
When South East Water move into their new Headquarters in 2015, they will own and occupy what is likely to become Melbourne's new suburban office benchmark, both as a building and workplace.
The success of the project reflects the skills of a carefully appointed project team and validates the procurement method chosen. Charter's belief that each property solution must be thoroughly researched, evaluated and tailored to suit the client's objectives has been reinforced by the success of this project.
Charter's continuing role includes:
A contract administration role during construction;
Regular advisory consultation and updates;
Managing the design and procurement of the public realm works along Kananook Creek;
Assisting the process of securing tenants for retail spaces within the building.
It has been a privilege to have been entrusted by South East Water with developing and executing an accommodation strategy that will deliver a major project of state significance.
"Charter was engaged by South East Water to provide strategic advice and project management services for the identification of options for the future accommodation needs of our workforce. They also provided project management services through the design phase and are currently providing superintendent and project management services for the construction phase.

Charter has provided a high level of professional service and has demonstrated their expertise and extensive knowledge of property and construction throughout the project. They have shown a strong attention to detail, determination in meeting strict timelines and have developed strong relationships with the project team and all the key stakeholders"
- Mr Phil Walsh, Manager Major Projects, South East Water.
Find out more about how Charter's Accommodation Solutions and Development & Project management services can help you