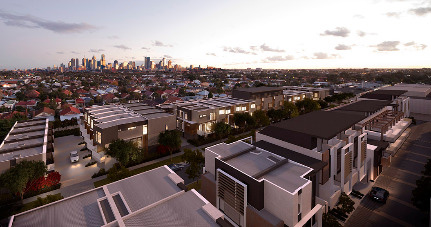 The Cotery in Northcote is a flagship project for Glenvill consisting of 128 townhouses and 53 apartments. Charter was initially engaged to provide a range of Valuation services before our Civil Engineers and Land Surveyors worked together to deliver an integrated solution for Glenvill.
TESTIMONIAL

"Charter's communication, honesty, accountability and persistence stood out on this project. They managed the project as if it were their own investment. Their ability to bring concealed issues to the forefront in a proactive fashion to be dealt with and have strategic conversations with multiple authorities and negotiate their way through numerous hurdles delivered significant value for us. Particularly given the significant time pressures we had to meet".

Mal Coates – Development Manager, Glenvill
EARLY ENGAGEMENT
Charter was engaged by Glenvill from the very beginning to provide valuation advice prior to the development scheme was approved and complete the valuation for construction finance. Our early appointment meant our team were able to provide expert insight and deliver integrated property solutions via our in-house team of Land Surveyors and Civil Engineers who partnered with Glenvill to prepare the site for delivery to the market.
INFILL SITE CHALLENGES
Working closely with Glenvill, Charter delivered a multitude of property solutions along each stage of the development, remaining flexible and responsive to all challenges that presented as the project progressed.
AN INTEGRATED PROPERTY SOLUTION
Land surveying: The solution to a myriad of challenges was simple in theory; it was to make sure we were responsive to our client and delivered an efficient service. We proactively managed certification processes through Council and Land Victoria, to ensure no delays in settlement and to achieve registration of the subdivision plan well before the contract of sale deadlines.
Civil Engineering: A critical element of our integrated solution was to service the client to the highest standard and to ensure deadlines were met ahead of time. With an extremely strong focus on responding to all queries, issues and items raised by the client, we resolved matters quickly and cost-effectively to keep the project moving so as to maximise profitability.
BENEFITS FROM CHARTER'S APPROACH
Charter Projects provide integrated services from related disciplines across Land Surveying, Civil Engineering, Quantity Surveying, Project Management and Development Strategy. For Glenvill, Charter delivered:  Time and cost savings during the design process due to closer collaboration on changing civil design and the corresponding Plan of Subdivision.
A PROJECT SOLUTION
Charter assisted in the delivery of a leading, integrated housing project.
A site that was initially an old tannery was demolished, remediated, developed and serviced, lots sold, dwellings built and now inhabited.
The Cotery will be successfully completed by the end of 2014.