It is by now well known to tenants in the commercial real estate space that vacancy remains low across Sydney's office markets. These low rates, as a result of office stock withdrawals and increased demand, have created a market that is generally interpreted as being more favourable towards landlords than tenants.
Notwithstanding this, current market conditions can also provide the opportunity for office tenants to consider disposing of their commercial lease in order to secure an optimal property solution.
Our recent experience indicates a variety of factors may drive a business to look to exit its lease arrangements, some of which are:
Over/under-utilisation of net lettable area due to corporate restructures or unforeseen growth/contraction;
Tired or underperforming workplace and built environment;
Location preferences – a desire to be closer to clients, projects, amenities or transport routes; or
Building quality – a tenant may look to further promote or establish its brand by relocating to a higher quality building that better speaks to the organisation's aspirations.
This Charter Insight will explore the push and pull factors underpinning the Sydney vacancy rates and the lease disposal opportunities that exist for tenants.
SYDNEY CBD VACANCY FACTOR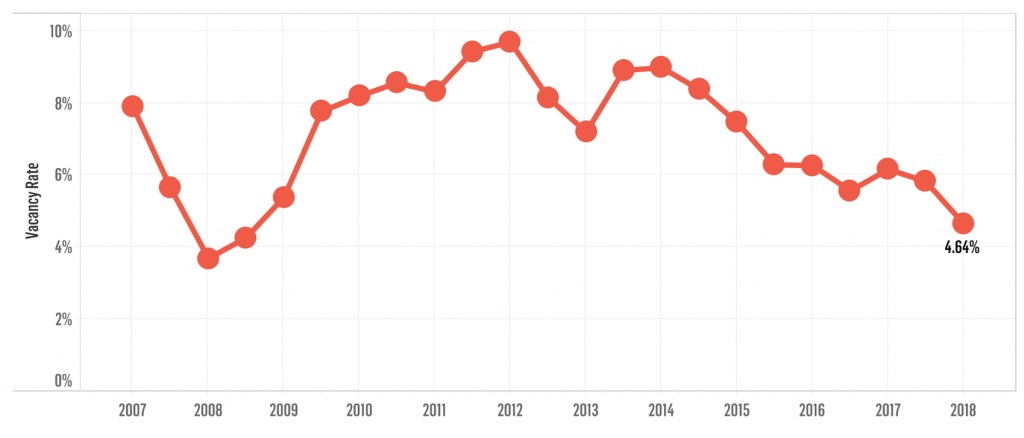 SOURCE – PCA 2018 Office Market Report
Sydney's near record-low vacancy can be largely attributed to two key factors:
Significant volume of office stock withdrawal from the market as a result of the following development activity:
Compulsory acquisitions by Transport for NSW for Sydney Metro stations;
Commercial office development / redevelopment projects;
Residential conversion / redevelopment; and
Hotel conversions.
Increased demand has been driven by multiple factors including, but not limited to:
NSW population growth;
Strong economic fundamentals and continued business growth across both NSW and more broadly the Eastern Seaboard; and
High volume of new entrants to the market underpinned by the significant growth of co-working spaces and tech businesses.
The market dynamics of the Sydney CBD have forced many office tenants to relocate to the North Shore and City Fringe markets in order to capitalise on lower effective rents and, in turn, has had a general flow-on effect to the broader Sydney metropolitan markets.
Charter has recently assisted several of its clients in capitalising on the tight market conditions by facilitating sub-lease, assignment and surrender negotiations and successfully managing transitions into more suitable property solutions.  Currently, leasing periods for sub-leases and assignments are minimal, and Landlords are also seeing significant benefit of lease surrenders by securing new direct tenants on longer term deals at markets rents.  In some instances, the gap between an incumbent tenant's passing rent and market rent can be in the order of 40%.
Although we predict some relief in the Sydney CBD vacancy rates over the next four years; until then, Sydney's office market will remain tightly held and effective rents will continue to rise.
Forecast relief to the Sydney vacancy rates is driven by the next major wave of supply expected to enter the market, with major developments such as Quay Quarter, Wynyard Place, and CQ Tower scheduled to be completed from 2020 onwards.  It should also be noted that in an attempt to attract large tenants with strong lease covenants some developers and landlords are willing to buy out existing lease tails as an additional pre-commitment incentive.  This option adds another dimension of lease disposal opportunity for tenants.
OFFICE MARKET NEW DEVELOPMENT SUPPLY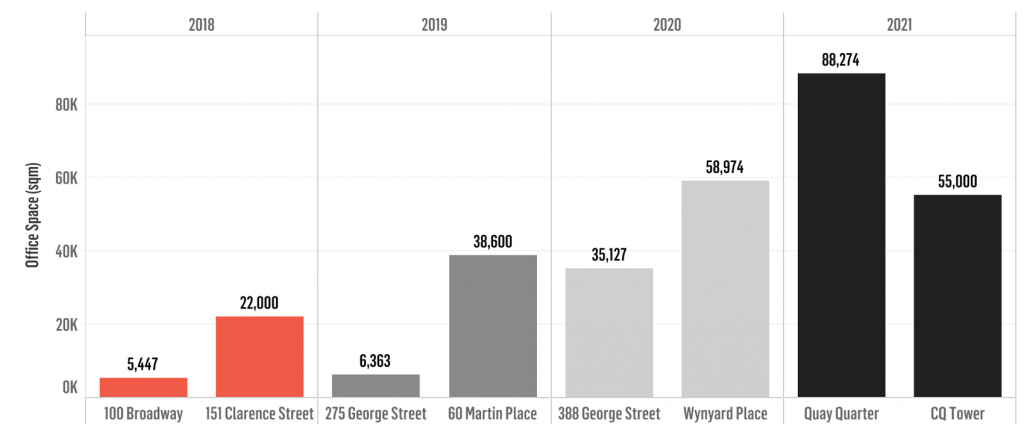 SOURCE – PCA 2018 Office Market Report
Across all industries, companies are viewing their accommodation strategy as a key driver in how they do business. If your organisation is in a position to surrender its commercial lease early, whether it be to adjust the amount of space occupied, or to create a more suitable workspace for your team, now is the time to explore lease disposal strategies. With record low vacancy rates tipped to remain at least for the next 18 months and the next wave of supply not due until 2020, its imperative to take advantage of the market and explore all leasing options available to your business today.  By providing market leading strategic independent advice, Charter can assist your organisation in capitalising on the current market conditions by undertaking a strategic accommodation review. This could possibly lead to the implementation of a lease disposal strategy, or alternatively, a broader corporate real estate solution that unlocks real value for your business.
Should you have any queries, please do not hesitate to contact a member of Charter Keck Cramer's Accommodation Solutions Group.
Sydney, NSW Accommodation Solutions Group